Contents
Before you sell
The rules of selling
Selling fees
Setting up an account
Listing your first item
Market research
Creating your listing
Payment and postage options
After making the sale
Communicating with your buyer
Delivering your item
eBay is big. Really big.
It is one of the biggest online marketplaces in the world with over 171 million active users at the beginning of 2018. In 2017 the ecommerce site turned over an annual revenue of $9.7 billion.
With that kind of influence – both monetary and social – eBay has been the go-to marketplace for online sellers for the last decade or so.
That being said, just because eBay has been around for a while doesn't necessarily mean everyone is familiar with it, or how to use it. If you're new to eBay and want to start making yourself some extra cash, or set up your own small business, Parcel2Go are here to help with our guide on how to sell on eBay.
1. Before You Sell
It would be a mistake to plunge into selling on eBay before taking some time out to survey the landscape. Without finding out the rules of selling or how the sellers fees work on eBay, you might find yourself in a pickle further down the line. You may find you've listed a prohibited item, or that you've chosen he wrong payment plan for your selling habits and are getting charged more than necessary.
Here's a short rundown of things to read up on before you start listings items.
- The Rules of Selling
Contrary to popular belief, eBay isn't some Wild West of e-commerce. There are rules, designed to discourage so-called 'cowboy sellers' from promising the world online before — quite literally — failing to deliver.
Part of learning how to sell on eBay (and being good at it) is learning the rules and making sure that you can follow these 'laws of the land' before you embark on your selling journey. This will ensure that both eBay and potential buyers will find you to be respectable and trustworthy, which will help you in the long run.
Prohibited items
There are a number of items you can't sell on eBay. These include things like:
Chance listings (giveaways, random draws and raffles)
Firearms and other weapons
Offensive material (pornographic and racially/ethnically derogatory materials)
Illegal services
Check out eBay's prohibited items list before selling. You should also check out our list of items couriers can't carry to avoid selling an item you can't deliver thereafter.
Listing practices
eBay is cracking down on something called "keyword spamming". It's basically where a user deliberately fills their listing with key words and phrases that people will be searching for to ensure that their product gets to the top of most lists.
This doesn't work very well anymore. In fact, eBay and Google are both more geared towards rewarding descriptions that users find useful.
Keep your listings informative and precise, and you'll soon see the benefits.
Profanity
eBay isn't keen on sellers using inappropriate language. This isn't limited to listings, though; it includes posts on community pages, HTML and JavaScript functions, and on external web pages that you link to eBay.
It's best practice, then, to avoid using any language that could be perceived as offensive in nature whenever you use eBay or a related forum.
- Selling Fees
A lot of people want to know how to sell on eBay without paying any fees, the answer in short is that you can't.
eBay keeps itself running largely on the small fees that they ask from their sellers.
The amount you pay depends on a couple of factors, such as whether you are a private or business seller, the number of items you list per month and how much your item(s) sell for.
There are a number of fees to understand before you start selling.
One thing worth noting Is that the fees will very depending on the type of eBay account you sign up for; a private or business account.
Private and Business Accounts
Private and business accounts are the two basic account types you can have when you start selling on eBay. If you've not registered as a business with eBay, you'll automatically be regarded as a private seller.
You should register as a business if you:
Sell items you bought to resell
Sell items that you produced yourself to sell
Sell plenty of goods on a regular basis
Sell new items that you bought but don't use
Sell items as a trading assistant
Buy items for your business
Below are some of the key differences between private selling and business selling. Take a look to see which of the two will better suit your selling habits.
| | |
| --- | --- |
| Private Seller | Business Seller |
| First 20 listings per month are free | Subscription available for unlimited fixed-price listings |
| You'll only pay a final value fee if your item sells | VAT percentage provided on Sell Your Item form |
| Never pay more that £50 on the final value fee | Display contact details, returns policies and T&Cs in your listings |
You can register as either a private or business seller when you first set up your eBay account, which we'll cover in detail next.
- Setting Up Your Account
You'll need an account if you want to sell anything on eBay. Thankfully, it's fairly easy to do. Just follow these steps:
Go to the eBay sign in page and click the tab marked "Register"
Enter the requested details (your email address, a password, your name and your phone number)
Select a payment method for paying your seller fees
Make a public Feedback Profile
Select the payment methods you'll take from buyers
Once all that's done, you're ready to list your first item!
2. Listing Your First Item
Now that you've completed your first step in our How to sell on eBay guide, you're ready to start listing items and making some money!
Listing an item and getting a sale, however, are not the same thing. There are a few things you should know about how to optimise your listing for the current market, ensuring the people who want what you're selling actually see your listing and have all the information they need to make a purchase.
- Market Research
Now that you're a registered seller, it's time to do some market research. Have a browse through the listings for items that are similar to the goods you are selling and compile a list of market averages for each one. This will give you a good idea of how much you should be listing your item for.
Here's what you need to look out for:
The going price — search for your item or items like it on eBay as well as other marketplace sites like Amazon to determine the kind of price a buyer will expect.
Availability — determine how easy it is to purchase the item you want to sell online. Rarity will allow you to ask for a little more assuming your item is in good condition. Conversely, easy-to-find items mean more competition, so you'll need a solid price point to shift your goods.
Unique selling point (USP) — is there anything your listing could offer that others currently don't?
What people want to know — find out what questions people are asking about your product and answer them in your product description.
- Creating Your Listing
The first thing you'll need to do is go to eBay, log in, and click the "Sell" icon in the top left-hand corner.

Next, you'll be asked to enter the title of the product you're selling. Be as specific as possible here. Include things like brand name, item colour, production year, and the item's condition in the title. By being specific, eBay can better categorise your item so more relevant buyers can see it when it's listed.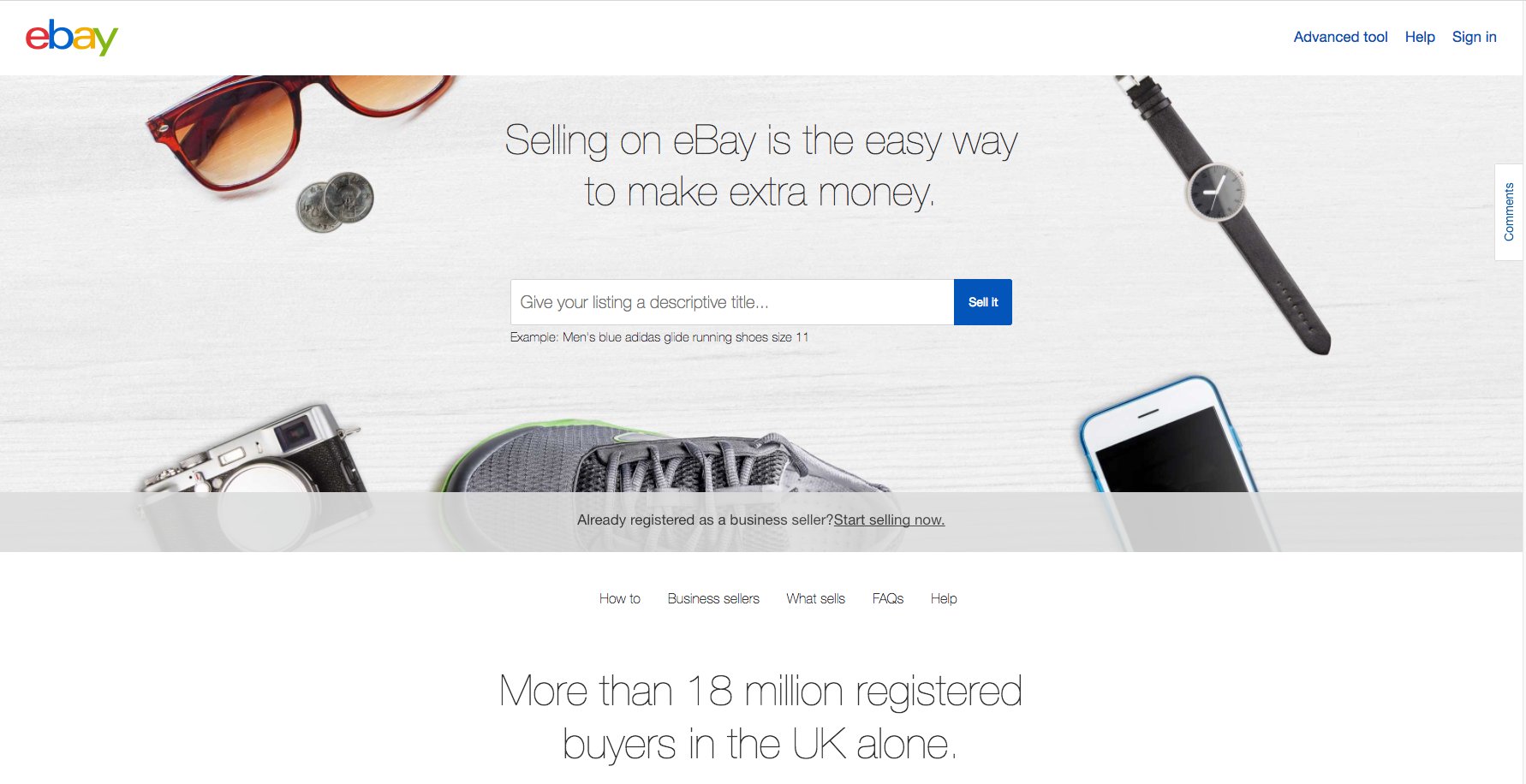 Once you've added a product title, eBay will suggest a category to add your item to with a little "breadcrumb trail".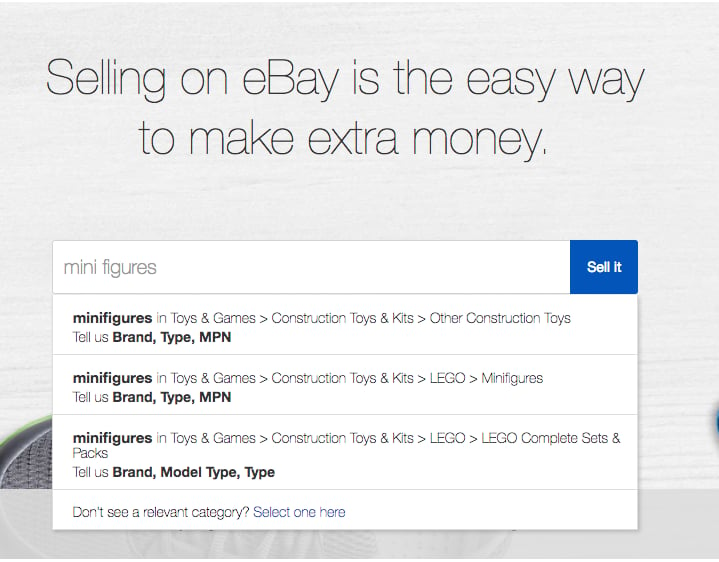 Note that if you're selling a product that's been listed a lot on the site, eBay will give you a number of items similar. If you want to, you can select a similar product and click "Sell one like this" to let eBay know you want your item categorised in the same way.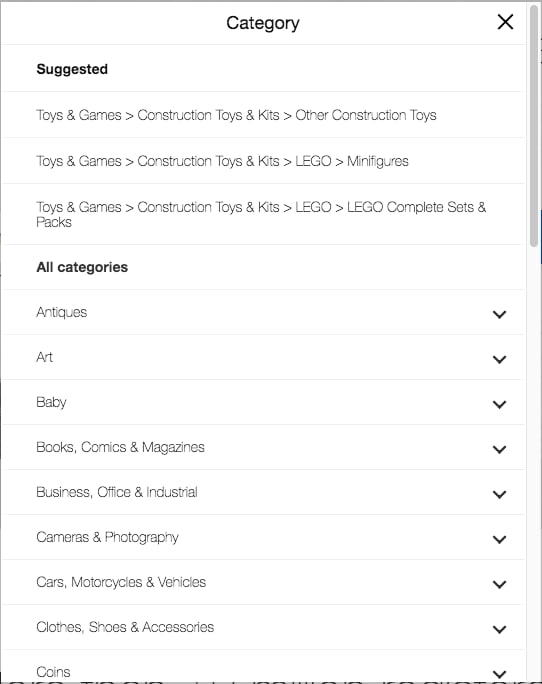 Once you're happy with your product category, click "Sell it".
You'll then be presented with a page to enter your details, which looks like this: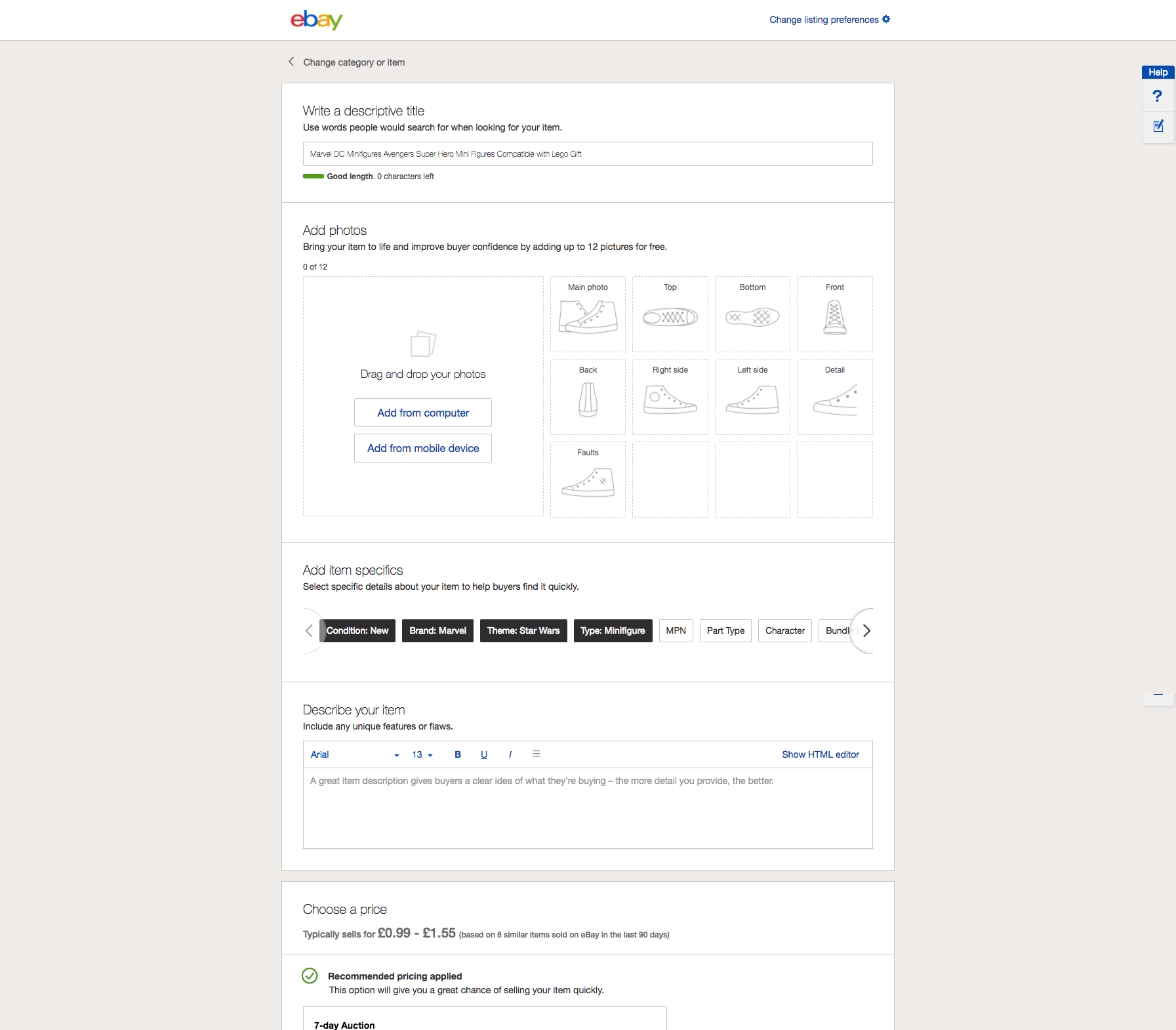 There are several sub sections including:
Title — This should be the same as the one you entered on the last page, but should you need to change anything — perhaps you want to add a couple of details or you've noticed a misspelling — now's your chance.
Condition — You'll get to choose the condition of your item. Be really honest here — people who buy a 'New' item and are presented with one that's clearly used aren't going to leave positive feedback. Plus, buyers can filter their searches by item condition, so it'll help you get the attention of those who are after your item in the specified condition.
Photos — You get to upload 12 photos of your item for free, so use them. Show buyers the item from every angle to emulate that brick-and-mortar experience of seeing it in-store. This is also your chance to show users any small marks or damage described in your item description, so they don't get any surprises after purchase.
Item specifics — These change depending on the category your item falls into. Even though the item specifics are optional, we highly recommend completing as many of them as possible to ensure any and all information your buyer needs is already included in your listing.
Details — Polish up your sales pitch and include it into the item details. If you're a good writer, this is your time to shine. If not, try and keep your description simple with short sentences. Try to use this space to cover anything that would be missed in the item specifics.
Finally, you'll need to choose a listing format. Note that auctions are often better for rare items — things such as limited-edition releases or a one-off item that's difficult to find elsewhere.
If you're selling multiple items that don't have a strong enough USP for auctioning, you can list them as "Fixed Price". This is the go-to choice for businesses, as it lends better to projecting revenue.
- Payment and Postage Options
The next thing you'll need to do is tell eBay how you'd like to accept payment for your item from the buyer, and how you intend to send it to them.
Postage
The postage option eBay will automatically provide for you is the standard Royal Mail option.
However, you can save money by selecting "Change delivery service" and choosing the "Other courier" option. If you select this option, you can get a cheaper delivery quote with a courier comparison site like Parcel2Go.com. Parcel2Go also has a free shipping management platform called Smart Send which you can integrate with eBay delivery.
Selecting "Add collection in person" gives the buyer the option of collecting their parcel from a local store instead of having it delivered directly to their address, which some buyers may prefer if they're out of the house the majority of the time and, therefore, aren't available to accept deliveries.
Payment
Lastly, you'll be able to select a payment method.
The options presented to you are:
PayPal — Though there is a small charge for using PayPal, accepting payments via PayPal makes life easier for the buyer while lowering the risk factor involved with purchasing your item thanks to PayPal's security software. The increase in sales will more than likely make up for small fee incurred.
Cash on delivery -- The old-school option. This works best if you're hand-delivering your item or the buyer is collecting from you. Most sellers don't use this option.
Once you've chosen your payment method, you can list your item!
Then you play the waiting game…
3. After Making the Sale
Now that you've got a good handle on how to sell on eBay, and you've listed your item(s) it's time to await your very first sale. If things go your way — and they should, thanks to your comprehensive research and your stellar listing — you'll soon be doing the "just sold an item" dance.
Once you've calmed down, you'll need to get your item to the buyer.
Below, we've covered all the bases to ensure you have all the after-sales support you need.
- Communicating with your buyer
Not all sales on eBay go as smoothly as you'd like. Every now and again there may be a hiccup, whether that's a payment not going through or a buyer backing out of the purchase at the last minute.
To contact your buyer:
Click the 'Advanced' link at the top of the eBay home page
On the left side of the page, click 'Find contact information'
Follow the on-screen instructions
Here are some reasons why you might need to contact your buyer after you've made the sale.
The buyer didn't pay for the item — Occasionally, a buyer won't pay for the item, most often due to a technical failure, but might not necessarily be aware of this. If you don't receive the payment within a couple of days of the sale, contact the buyer to find out what's going on. If you don't get a response, you can report an unpaid item in the Resolution Centre. eBay staff will help you from there.
The buyer backed out of the sale — A buyer might want to back out of the sale following winning the bid due to monetary issues, or the realisation that the item they've bought isn't what they thought it was (you can minimise the likelihood of this happening by being as detailed as possible in your listing). Contact the buyer to get a clear reason why they no longer want the item, then decide whether or not you want to let them cancel the transaction. You may be able to do so in the My eBay section on the site.
You're not able to follow through on the sale — If you can't follow through on your sale for any reason, contact the buyer before you cancel the transaction. Reassure them they won't be charged and, if necessary, offer them something small as compensation (if, for example, the item was high value). Then you can cancel the transaction in the Sold section of My eBay.
You need further information – you may not have full contact details for the buyer in order to ship the item to them, or maybe it's a personalised item and you need more information of what they would like. Either way it's best to contact the buyer as soon as the payment has gone through, so you can get the item to them in a timely fashion.
Contacting your buyer is useful for reassuring them that yes, you are a real person, and yes, you're actually quite a nice one. It brings a human side to the transaction and renders it likely that they'll remember you in future.
- Delivering your item
Before you send your item, ensure that the buyer has actually paid for it. Check that their credit card or PayPal has been accepted and that the full amount has been credited to your account. You'll get an email notifying you if the buyer completes the checkout page on your item.
If you opt to save money by booking an independent courier service, there are a few steps you should take to ensure delivery goes as smoothly as possible.
Firstly, package your item according to our packaging guidelines. Fragile items will need to be packed slightly differently to hardy items; the same goes for bulky versus small items.
Once you've packed your item, get a quote for your parcel, ensuring that the weight you've quoted factors in the weight of packaging too.
Select the service that's appropriate for the item you're sending and matches the conditions outlined in your listing (delivery speed, method, or cost, for example).
Book and pay for the delivery.
Wait in for collection if you've chosen a collection service or drop off your parcel at a local store if you've booked a drop-off service.
Whether you just want to declutter, raise money for a holiday or start your own ecommerce business, learning how to sell on eBay is the first step in making some extra cash online.
If you do plan on selling a number of items on eBay, its worthwhile signing up for Smart Send, our free, no fuss ecommerce shipping solution. Smart Send can be integrated with your eBay account giving you more control over your listing whilst saving you time and money.
Now that we've taught you everything we know about how to sell on eBay, it's time to enjoy the fruits of your labour. If eBay is the start of your own business, take a look at our blog post about parcel delivery for small business for more tips to help you along the way.