Loads More Options...
About Parcel2Go.com
Parcel Delivery Tools
Choose Your Country
Send Your Parcels with
Smart Send
Send all your eBay orders in one place with our FREE shipping solution
1. Sign in/Register with your
Parcel2Go.com account
2. Link your eBay account
with Smart Send
3. Start sending
with Smart Send
Easy Selling. Easier Shipping.
Synchronise with eBay to automatically mark items as dispatched
Easy dispute resolution thanks to great tracking features
Link as many eBay accounts as you like for free
eBay is so popular because it makes selling online as easy as possible.
But even when you find your listings selling in record time, it can be difficult to keep on top of all the deliveries you need to book.
Luckily, you can now import all the details of your ebay delivery items ready to book delivery in a click with Smart Send, our free e-commerce shipping solution.
Smart Send makes it easy to buy Ebay postage and manage Ebay shipping, no matter where your items need to go. We also offer free eBay delivery tracking as standard.
Sign up and see what Ebay postage options we can offer you through Smart Send.
Why Sellers Love Using Smart

Send

for eBay Deliveries
There's more than one reason to start using Smart Send for all your eBay delivery needs. Our ecommerce shipping solutions help you to streamline your Ebay delivery service and make running your business a breeze.
With Smart Send, you can:
Import eBay delivery items and buyer details in seconds
Synchronise with eBay to automatically mark items as dispatched
Tweak, remove or bulk-edit your orders at any time
Access to a wider range of eBay couriers than anywhere else
Get the UK's cheapest parcel delivery quotes
Easily resolve disputes with comprehensive eBay parcel tracking features
Quickly download invoices and statements for all of your orders
Best of all, Smart Send is entirely free eBay shipping solution.
Selecting the
Smart

Send

Delivery Option on eBay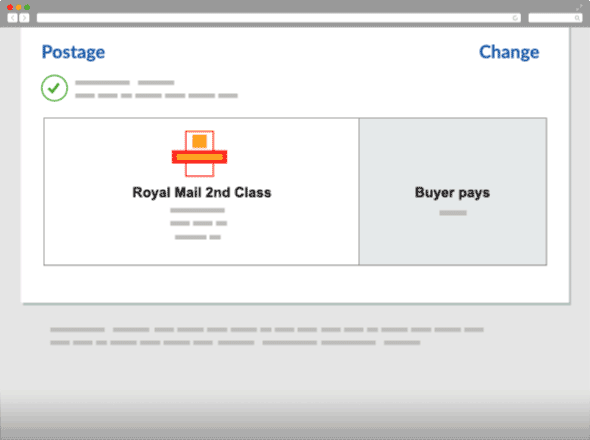 Go to the "Postage" section of your listing.
Click "Change" in the top right-hand corner.
Selct the "Large Parcel / Other" tab.
Scroll to the bottom and select "Other".
More Info
Get Started Today
Who is Smart Send for?
The Casual Sender
Only send a few parcels? Import your items for free to make selling as easy as possible.
The Online Startup
Sending regularly? Save time by bulk-editing your imported items and book all of your orders with a click.
The Power Seller
Making your living online? Manage all your channels from one place and even automate your bookings for maximum control.
Other World-Class E-commerce Integrations
Our shipping tool also integrates with some of the world's largest e-commerce platforms and order management systems
Understanding Ebay Seller Fees
A little lost understanding how to make the most out of your Ebay selling, or a bit worried about Ebay seller fees in the UK? Here's a quick guide:
Ebay seller fees are what it costs you to sell through the Ebay platform. They include listing fees (for when you post an item on the site) and a final value fee (which is a percentage taken when you sell an item). You can find all the details on the Ebay seller fees here, or you can use an Ebay seller fees calculator such as this one. It'll automatically calculate how much it will cost you to list on Ebay and show you your potential profit.
Sometimes, you'll be able to get an Ebay seller fee discount. You can get a discount when Ebay offers a promotional discount on selling fees, or if you pay an annual subscription for an Ebay shop rather than listing items as a private seller.
If you're running an Ebay shop, there are also Ebay business account fees to take into consideration. Depending on what type of business account option you choose (Basic, Featured and Anchor), you'll incur different Ebay seller fees. Read this page for more information.
Worried about costs? We can help you keep your Ebay shipping costs down with Smart Send. Use it for free and connect your account to start booking your Ebay delivery service at the best prices you'll find. Pick from our range of Ebay couriers for reliable service every time.
Our Ebay Delivery Guidance
When selling on Ebay, you want to find the best delivery service for your customers and your business. Using Smart Send, you can find the cheapest Ebay next day delivery services and more to get your items to your customers quickly.
In ecommerce, delivery is everything. As your Ebay funds are on hold awaiting delivery, the faster you get parcels to their destination, the quicker you can get paid. Keep an eye on your shipments using Ebay delivery tracking, provided by our reliable Ebay courier services, and see the profits roll in as your parcels roll out.
How much does Ebay charge to sell?
You can read our guide above to Ebay selling fees, or check out the details here. You can also use an Ebay selling fees calculator to make things easier. We help you to keep your Ebay selling costs low by giving you the best Ebay shipping prices you'll find anywhere using Smart Send.
How much to combine shipping on Ebay?
If your buyer hasn't yet paid for their items and they've purchased multiple items from you, you can combine their postage for cheaper Ebay delivery. You can still combine shipping on Ebay after they've paid for each item individually - just offer them a partial refund. Find out more here.
How to cancel an order on Ebay as a seller?
There are ways to cancel an order on Ebay after it's sold. Simply go to this page and click the "Cancel and order" button - you'll need to sign in to your Ebay account. This will allow you to process a cancellation. You can cancel an order up to 30 days after the sale, even if a buyer has already paid for their item.
Does Ebay do next day delivery?
You can offer Ebay next day delivery to buyers by updating your Postage settings. This lets Ebay and your buyers know how long it will take to turn around an order, and Ebay can update their delivery estimate on your listing accordingly. Remember to choose a cut-off time for ordering when setting up these Ebay postage details, as you'll need time to turn around the Ebay next day delivery service.