Loads More Options...
About Parcel2Go.com
Parcel Delivery Tools
Choose Your Country
I have already placed an order but cannot print my label. What can I do?
If you do not have direct access to a printer, there are several alternatives you can consider:
- E-mail the confirmation (containing the label link) to a friend or neighbour.
- Visit your local library, who are likely to have a printer for public use.
- Print your label off at work.
Remember, if you have booked with DX, Parcelforce (collection service only), City Sprint or Palletforce you do not require a pre-printed label. In this case, you may hand-write the delivery address on the box and the driver will bring a barcode label to the collection address.
---
Label error
Label errors are picked up by our specialised team when you place an order.
If you have not received your labels this means we're still working on generating your labels, we'll e-mail them when they are ready.
If you're having issues viewing your label you may need to download a PDF reader, click here to download Adobe Reader.
---
Look for the 'Printer Optional' icon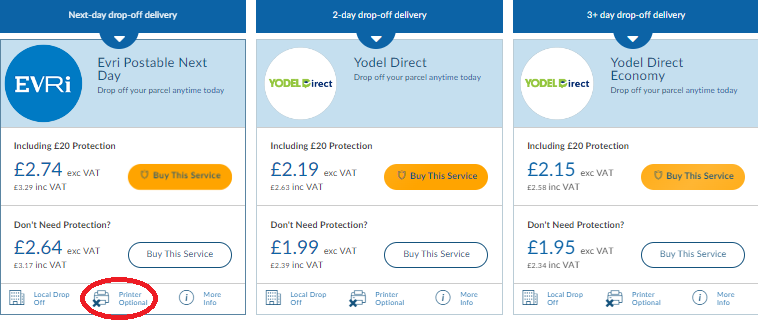 ---
---
Search the Parcels Help Centre