Loads More Options...
About Parcel2Go.com
Parcel Delivery Tools
Choose Your Country
I am unable to print a label. Which service can I use?
When you process a quote, the services that do not require a printer can be found in the service descriptions listed under the service name. Click here to obtain a quick quote.
---
Look for the 'Printer Optional' icon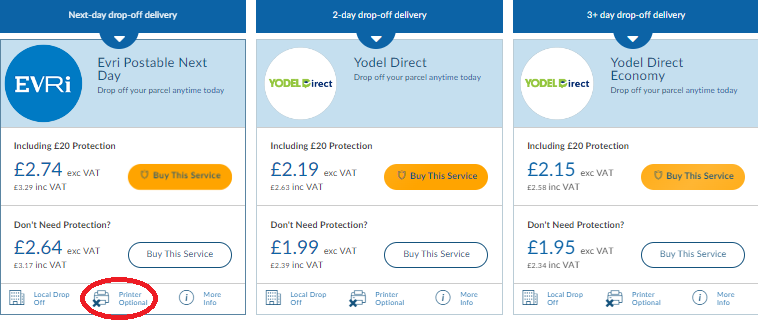 ---
UK services
Drop-off service
Evri and Yodel Direct services offer a print in store alternative.
You book a drop-off delivery at Parcel2Go.com and select the 'Print in Store' add-on. You can select this on the address entry page, within the booking process.

Open your confirmation email on your mobile or tablet to find your label QR code.

Take your parcel to the drop-off point and show the QR code to the clerk to have your label printed for you.

Collection Services
Book either DX, Parcelforce, City Sprint or Palletforce and the driver will bring labels to the collection point, so you can just handwrite the delivery address onto the parcel.
---
European services
For European services, you can use Parcelforce (collection service only) and again the driver will bring labels to the collection point.
---
International services
We do not offer any services delivering to countries outside of the EU that do not require a printed label.
---
---
Search the Parcels Help Centre