So you need to know how to post a parcel...let's set the scene.
You wander into your nearest post office. You join the queue.
You spend the five-minute walk up to the counter hoping the cashier doesn't ask you any questions you can't answer. You forgot to check your parcel's weight or even its size.
Except now you're stood there in the queue, and you start to think: surely there's an easier way to send a parcel?
But if there is, how do you go about doing it?
Sending made simpler
Sending a parcel using Parcel2Go is as easy as 1, 2, 3:
Get a courier quote online and book.
Pack your parcel correctly ready for collection or to be dropped off at a selected location.
Track your parcel online until it's delivered to your recipient.
An extensive guide
According to our findings, it takes 1.5–2 minutes to book a delivery using the Parcel2Go website.
However, for those that are brand new to sending parcels using a website like ours, we've gone into as much detail as possible to ensure we cover any concerns you might have.
You can even use our 'Quick Links' below to go straight to the bit you're most interested in.
Let's get started.
How to send a parcel in the UK: Contents
Part 3: Despatching your parcel
Part 4: How to track your parcel
Step 1: Getting a Quote
To get a quote online, you'll need to know roughly the weight of your parcel. In some instances, you'll also need to provide dimensions, though if you're sending within the UK with us, you only need your parcel weight.
Using the quote tool
When you land on our homepage, you'll see the quote tool right away. To get started with a UK quote on a single parcel, simply enter your parcel weight and click "Quote & Book".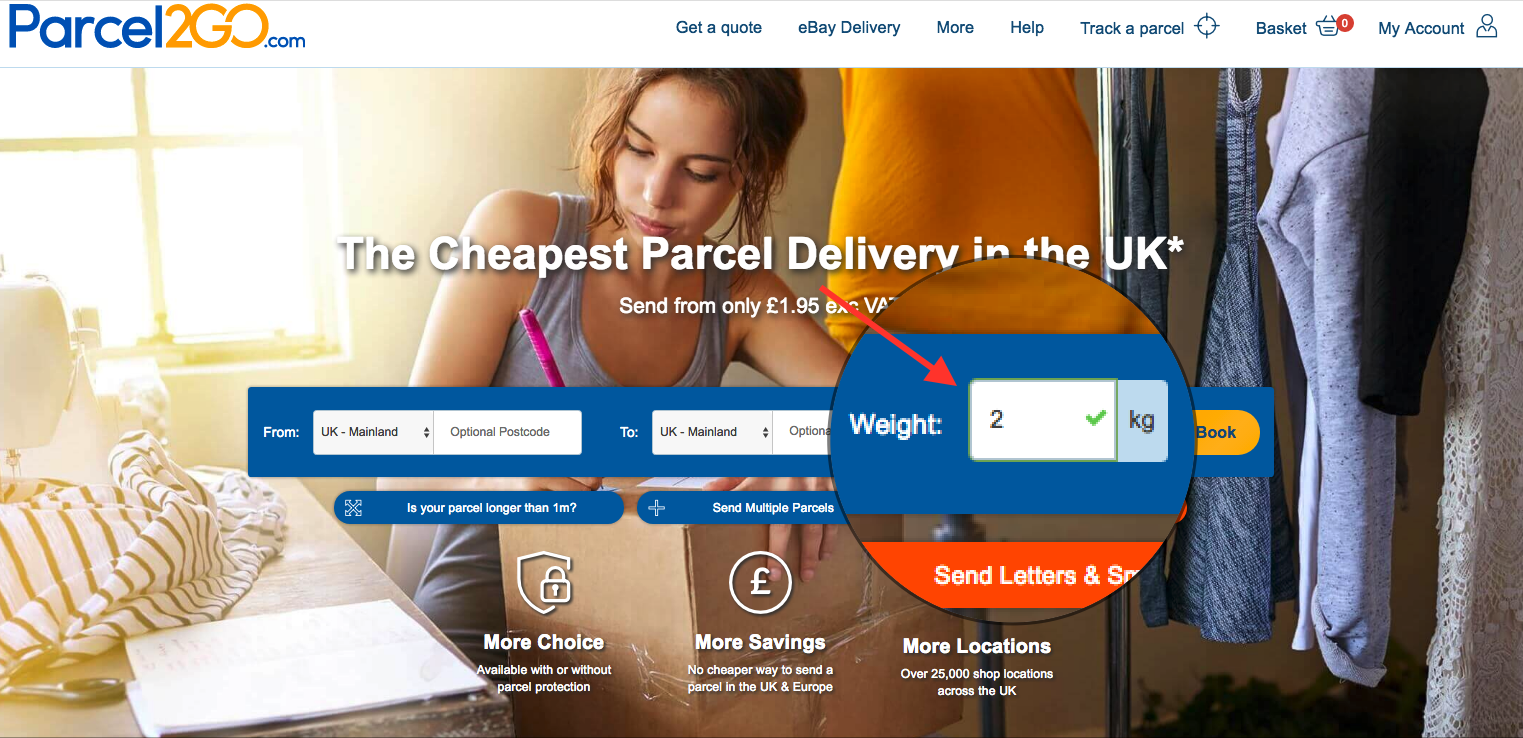 If you want to send your parcel outside the UK, select the drop-down menu next to 'To' and select the name of the country you want to send to.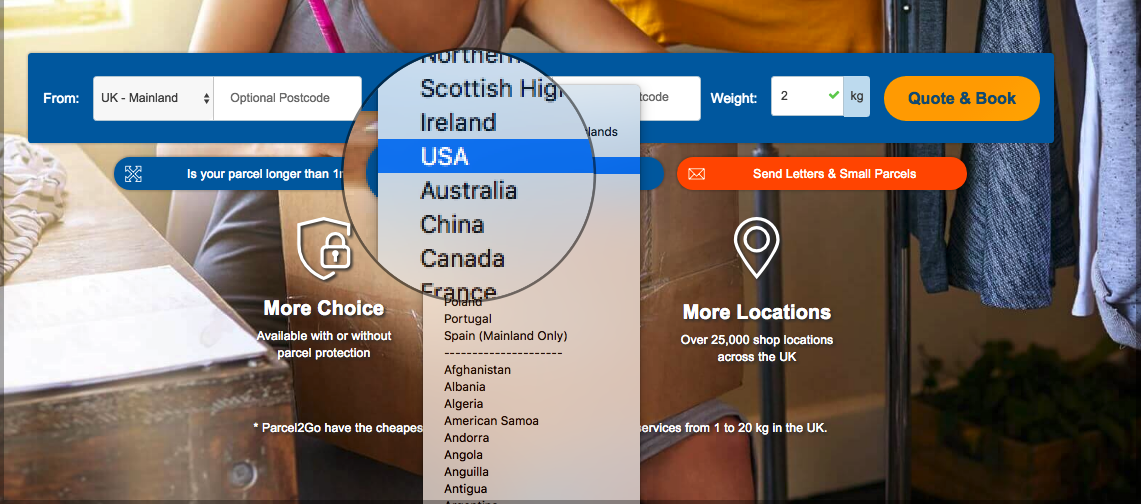 Navigating the results page
Once you've clicked 'Quote & Book', you'll be presented with a range of different courier quotes.
This allows you to compare prices between different courier brands with a variety of service speeds.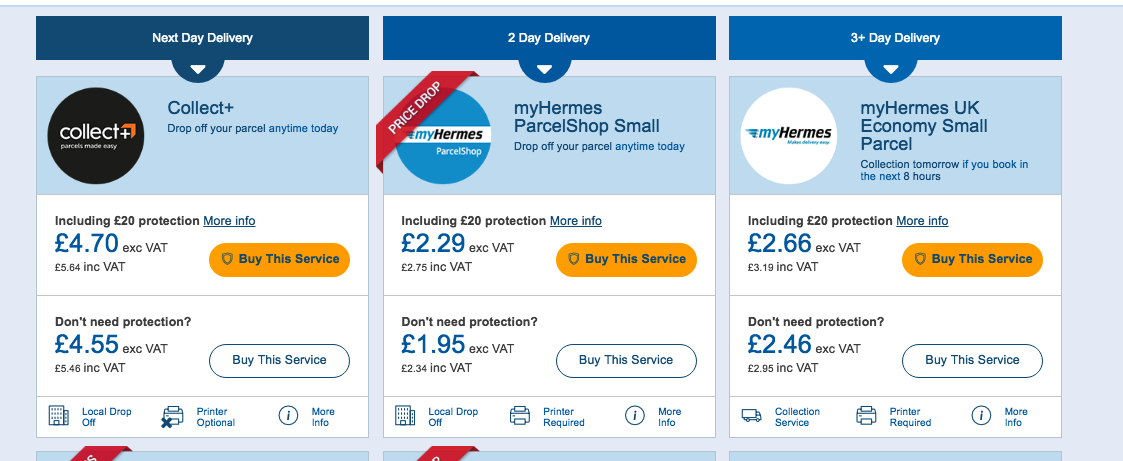 By default, you'll be presented by all the services we have available for your selected weight bracket and destination.
Filtering your results
To narrow down your results, you can use the filters at the top of the page.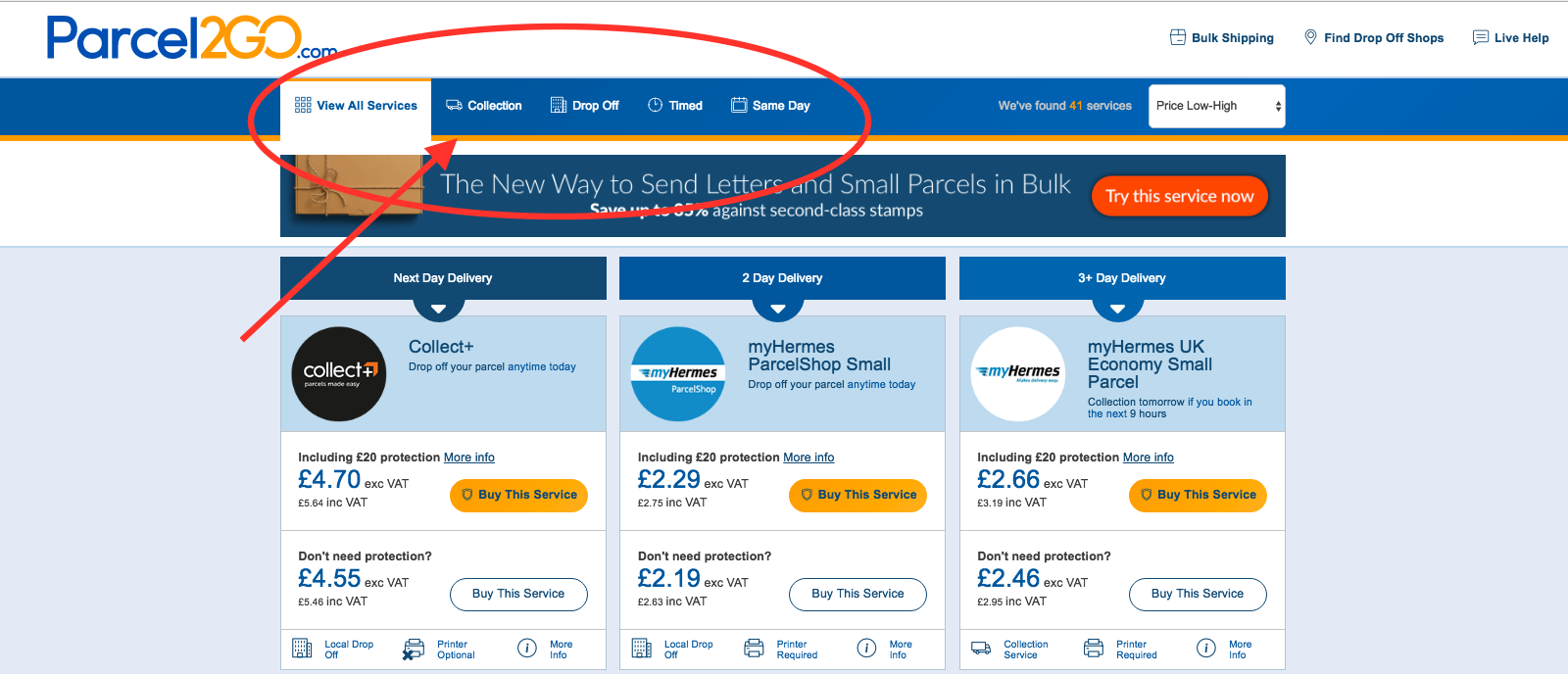 Collection and drop-off Services
There are two types of delivery services you can select from: drop-off services and collection services.
A drop-off service means that the sender can drop off their parcel at a designated store at a time that suits them. These services are usually cheaper because they do not require any additional mileage from the courier.
A collection service allows the sender to have their parcel collected from a specified location on an agreed date. This is usually more convenient for business owners or people working from home.
Part 2: Booking
Purchase options
Once you've found a service you like the look of, select one of the purchase options: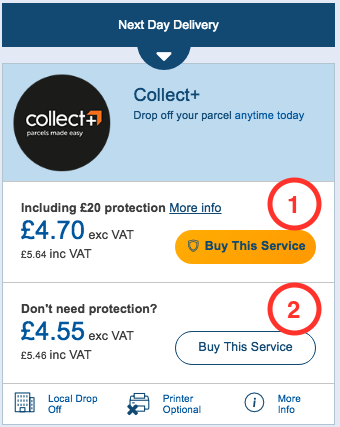 Including Protection – This option includes a certain amount of cover for your parcel, up to the value of between £20 and £50 depending on where you're sending. This means in the event of loss or damage, you'll be eligible to make a claim.
Don't need protection? – This option gives you our lowest price but does not include any parcel protection. Don't worry – you can add Protection during the next step up to the value of £5,000.
Once you've clicked one of these options, you'll be taken to the next step in the journey.
Entering your parcel details
Now, you'll need to enter your Parcel Details. It doesn't need to be an essay; just a couple of words to let us know what you're sending and the item's value.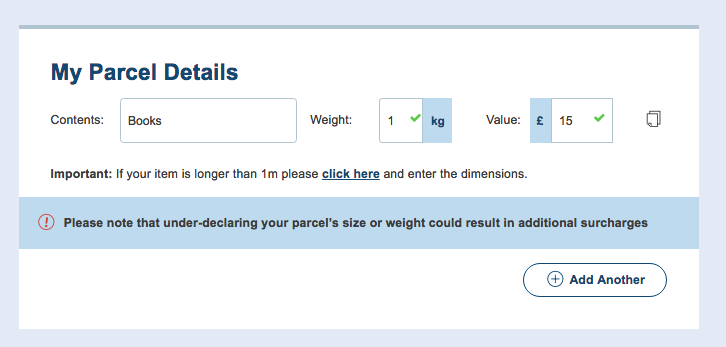 Why is this important? – We need to ensure you aren't trying to send something that our couriers can't carry. That way, you avoid any complications further down the line.
You'll then have the opportunity to add the amount of Parcel Protection you need in order to cover the full value of your parcel.
Note: If you've selected the "Including Protection" option on the previous page but the value you have entered exceeds the amount of Protection included (e.g. you have £20 included but your parcel is valued at £25), you have the option to extend your Protection to cover the full amount in this field.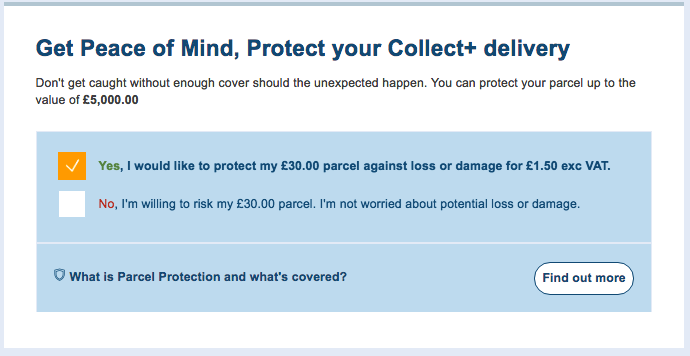 Address Details
If you're booking a collection service, you'll need to specify where you want your parcel collected from.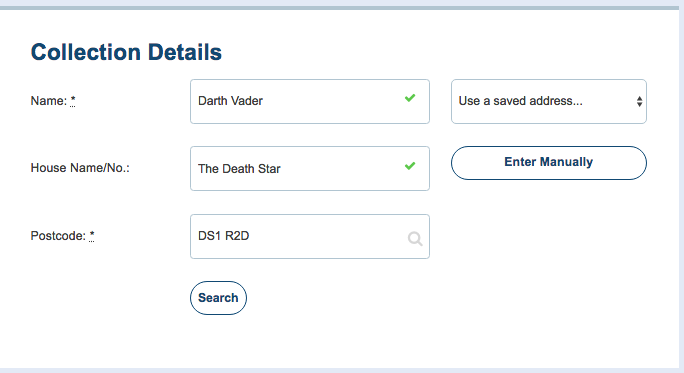 If you're booking a drop-off service, you'll won't need to select a collection postcode. Instead, you can simply drop your parcel off at any associated drop-off store in our network. If you use our 'Find a Drop Shop Tool', we'll show you the locations of your nearest five.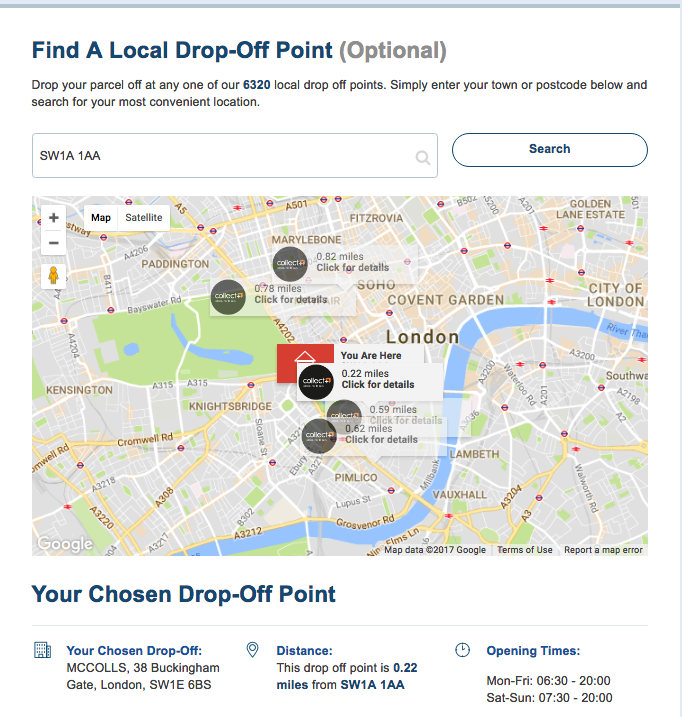 The drop-off point locator doesn't require you to select one specific drop-off point. It simply provides you with relevant locations, meaning you can simply drop off your parcel at the shop that's most convenient for you. Easy!
Payment
Once that's done, you'll just need to accept our terms and conditions to continue to the final point in the journey: paying for your delivery.
You can pay by card, PayPal, Amazon Pay, or PrePay.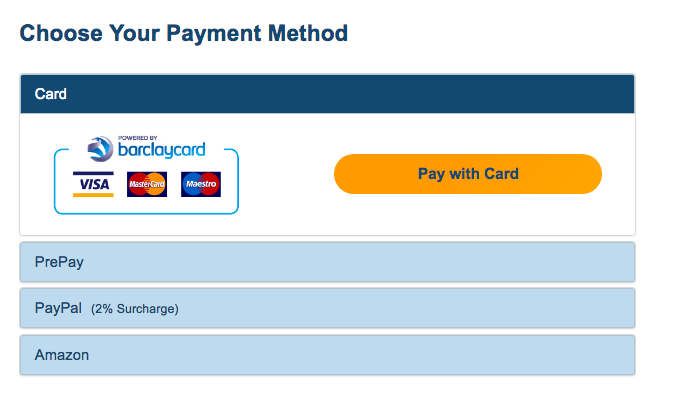 Select your payment method, enter your details, and click book!
Step 3: Despatching your parcel
Packaging advice
Now that you've got your courier service booked, you need to ensure that your parcel is ready to be sent.
A few things to remember about packaging your parcel:
Choose a box relative to the size of its contents – Your parcel size should be a little bit bigger than its contents, but not so big that the item will be loose inside the box.
Choose packaging that will protect your item – This is especially important for items that are fragile or valuable. We recommended using double-corrugated cardboard boxes and including plenty of internal packaging materials, such as bubble wrap and polystyrene foam.
Ensure you've labelled your parcel correctly – When you've booked your parcel delivery, we'll send your label to the email address you provide. All you need to do is print this out and firmly attach it to the outside of your parcel, ensuring nothing obstructs the barcode. This needs to be scanned in order for a courier to complete collection.
If in doubt, check out our packaging guidelines. This should help eliminate any chance of mispackaging your parcel, which would otherwise cause some issues further down the line.
Dropping off a parcel
Dropping off your parcel at a drop-shop is easy.
Get the address of a relevant drop-shop with our drop-off location finder.
Go to your chosen location with your parcel.
Hand your parcel over to the cashier.
And that's it!
Once you've handed over your parcel to the cashier, it will stay at the shop until the courier comes to collect it. If you drop off your parcel before 12pm, your parcel will usually be collected the same day, depending on the service you've selected.
Having a parcel collected
If you've booked to have your parcel collected, all you'll need to do is make sure you're at the location you specified during booking (like your house or your office) on the collection date, and hand over your parcel to the courier when they arrive.
Step 4: Tracking Your Parcel
Once you've dispatched your parcel, you'll probably want to keep tabs on its whereabouts to ensure it's on the right track, especially if you're a first-time sender.
Thankfully, you can track your parcel online from the moment it's collected.
Finding your tracking number
Get your parcel tracking number from your booking confirmation email. Your tracking number begins with 'P2G'.
Tip: If you can't access your confirmation email, you can get your parcel tracking details in your My Account area.

Using our tracking tool
Once you have your parcel tracking number to hand, enter it into our online parcel tracking tool. You'll then get a breakdown of where your parcel has been, where it's up to in its journey, and when you can expect it to be delivered.
You can send your recipient the parcel tracking number so that they can track the parcel themselves. Our tracking tool is free for anyone to use, so just send them a link!
It's easy to get a great deal
Now you should be fully equipped to start booking all of your parcel deliveries online. Not only is it an easier way to send – there's no need to queue to book your delivery – but it's also the best way to find the best price on both UK and international parcel deliveries.
It doesn't take long to get the hang of booking your parcel deliveries online, and once you do, it opens up new opportunities.
Take, for example, our bulk shipping tools for online sellers. They allow you to integrate your accounts from eBay, Amazon, Shopify and more with your Parcel2Go account to book – and keep track of -- all of your orders at once.
So next time you're thinking about sending a parcel, why not try booking online instead? It's easier than you think.