Please note: All Royal Mail international shipping is currently unavailable due to the Royal Mail cyber incident - find more information and Royal Mail alternatives here.
Are you thinking about offering international shipping to your customers? As a business, it's a great way to target a wider market and broaden where you trade, but there are more steps involved than shipping within the UK. So let's go through it together.
Since July 2021, many businesses have stopped shipping to the EU because of Brexit and changes to EU VAT. But since last year, shipping to the EU and beyond has gotten easier and there's a lot more information we can provide to help you. Here at Parcel2Go, we worked hard to secure the cheapest prices and work with the most reliable couriers for international shipping so shipping abroad is as easy as it needs to be.
Our International Shipping Hub is chockablock full of helpful information for business senders, including guides to Customs and VAT, EORI numbers, HS codes, documentation and more.
Make sure you take a look for all the nitty gritty information, but for now let's go through the process of sending parcels abroad as a business, step-by-step.
Note that the shipping process can be different for different countries (we talk more about that further on) but for this guide, let's send a parcel to Germany.
Send an International Parcel - Step-by-Step for Businesses
1. Apply for an EORI Number
You might already have this (in which case, skip this step!) but if you're not sure or you don't have an EORI number you'll need to apply for one to ship goods to any country outside of Great Britain as a business.
You need your EORI number to fill in customs declaration forms, so it's important to have one and the good news is they're really easy to apply for! Get an EORI number here on the gov.uk website.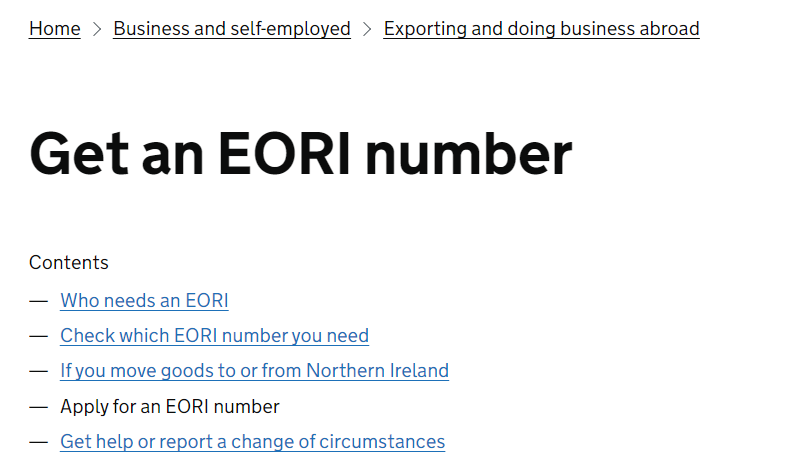 And to make it even easier, we've put together a checklist of everything you need to complete your EORI application.
2. Check Customs Regulations
Different customs departments have different rules on what can and cannot be shipped into their country.
So you should always check the customs requirements for the country you're sending to before you book a parcel. This means you can be sure it won't be held up or delayed for any reason. Here's Germany's Customs information.
It's also a good idea to check our prohibited items list, which you can filter by courier and country.
3. Get a Quote
Once that's sorted, let's get onto shipping your parcel.
Enter your parcel's dimensions and weight into our quote tool to get an accurate parcel delivery quote. You can then choose the courier service that works best for you from our results page. When sending a parcel abroad, you'll notice this banner on some of out international parcel services: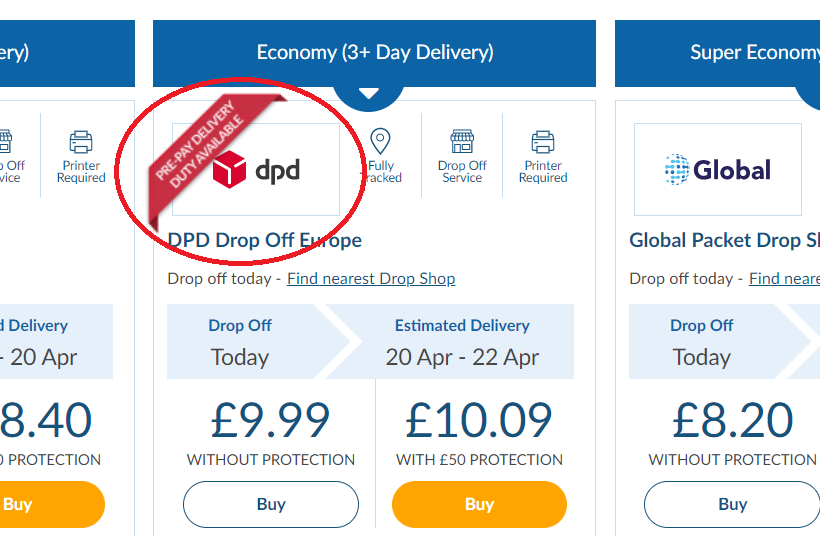 This shows the service offers DDP (Delivery Duties Paid), which means you pay the customs, duties and fees before shipping so your customer doesn't have to. If the courier service you choose doesn't have this banner, it means you're choosing DDU (Delivery Duties Unpaid) which is where the customer will have to pay those extra charges to have their parcel released from Customs.
Generally, we find that DDP is the best option for businesses as you can guarantee the parcel will be delivered and customers won't be surprised with any extra shipping fees. Read more about your import fee options.
4. Complete the Order Information
As with any parcel delivery, you'll need to fill in the buyer's address and details as well as your own, but there'll also be a section on 'Customs Details' for you to fill in as part of the normal booking process.

Within this, we provide a Duty Calculator, so you can work out exactly how much customs and duty charges you need to pay. This will help you get a better understanding of your international postage rates for each time you send to a customer overseas.
Each country will have different VAT charges, find our list of EU VAT here, but this rate is normally around 20% of the total value of the parcel. For example, Germany's VAT rate is 19%.
5. Fill in the Customs Declarations
Customs declarations are documents you need to attach to your parcel so that the customs department can understand all the details of your parcel's contents and make sure it complies with their country's regulations.
Don't worry about knowing which forms you'll need for your items - at Parcel2Go, as soon as you complete the booking process we will send you all the documentation you need to breeze through customs. And we even automatically collect and fill in import description details for you (although of course you can edit this as needed).
For shipping to most countries, you'll need to fill in a commercial invoice - here's some tips on how.
You might also need a HS code - it's really easy to find or manually enter a HS Code with Parcel2Go.
You can find your shipping labels, a copy of the commercial invoice and instructions in your order confirmation email.
6. Package and Ship!
Once you've filled in all the details you need, all that's left to do is package your parcel - which we're sure you're already an expert at by now - and ship it!
Remember to attach your commercial invoice to the outside of your parcel, alongside your shipping label - it's a good idea to attach it in a clear plastic wallet, so it's clearly visible but still protected from weather conditions.
International Shipping from the UK - Quick Business Tips
Make sure you know all your import options, from DDP, DPU or IOSS (Import-One-Stop-Shop) so you can choose the option that works best for you and your customers
Choose DDP to save your customers time and prevent the parcel getting stuck at customs until the customer pays (there'll usually be a time limit on this before the parcel is sent back to you)
Always, always, always check customs regulations for the country you're shipping to
Remember to include lots of detail in your commercial invoices and customs declarations - if you're too vague, customs might flag the parcel and investigate it which could delay it's arrival, but it won't be penalised for being too detailed
Remember the 'total value' of your parcel includes both the value of the item and the cost of postage
If you're having issues with any part of the booking process, our customer service team are available to help you 24/7. So please don't hesitate to get in touch!
Best Shipping Worldwide for Small Businesses
We've got loads of international shipping options, including both express and economy services to match all budgets. And we offer free parcel tracking on almost all of our services! Here's some you might be interested in:
This service offers DDP to almost every country within Europe!
Evri might be your cheapest option, depending on where you're shipping to.
Great for worldwide shipping.
Send up to 70kg per parcel and choose DDP with this service.
Shipping internationally might seem daunting at first, but once you're in a routine with it, it can be really simple! Now you're an expert, get your free instant quote today.
We have loads of great shipping options at Parcel2Go and we hope you've found some useful information here or in our International Shipping Hub. If you stumbled across this page as a consumer sender, or you want to check in with the basics, read our Beginner's Guide for Sending a Parcel Abroad.