Now that 2020 has commenced, you might be looking for the ultimate shipping platform to match your business's logistical needs.
Having all of your orders in one place can help you get back into the driving seat as a seller, alleviating extra stress at the same time. Many of the order management platforms offer specific tools to help various businesses implement a strong logistics plan.
If you are already familiar with order management software, you will know how easy they are to use and how much time you can save. They have the potential to help you increase your earnings too, giving you the time to do the more important jobs to help you grow your business.
Searching for the right platform can be tiresome and let's face it, unnecessary, especially when we have already run the rule over all the best platforms for you. With so many options to choose from, you might be thinking which one is the best one for you and your business?. This article will shed some light on the question and help you make an informed decision.
In this article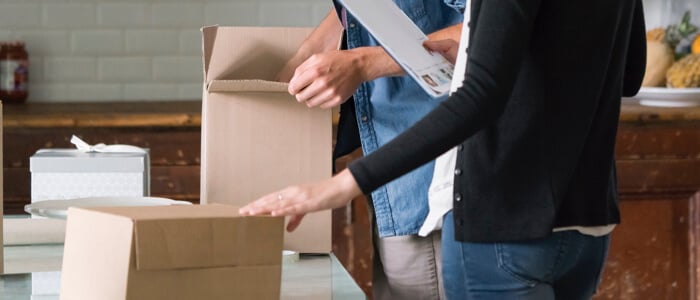 Linnworks
Linnworks connects and automates all of the different parts of your selling process, enabling you to spend less time on order processing, label creation, packing and order tracking using spreadsheets. Linnworks allows your orderflow to be fully customisable so that you're always in control of your orders.
Linnwork's also allows you to combine all of your selling processes in one fast cloud-based system.
Why Linnworks?
If you are a start-up, Linnworks can help you to expand your business in a simple and easy way.
Linnworks Price (Monthly)
Standard -£150
Unlimited Users

Unlimited Channels

1,000 Inclusive Orders per month

14p per additional order

Multichannel Order Management

150+ Marketplace & Courier Integrations

Centralised Stock Control

Bulk Listing
Advanced- £450
Unlimited Users
Unlimited Channels
3,500 Inclusive Orders per month
12p per additional order
Advanced User Permissions
Custom Reporting
Just in Time Ordering
+ Everything in the standard package
Packlink
Packlink allows you to compare the best shipping services at the cheapest prices. Their mission is to make shipping simple and easier for people throughout the world. Packlink is an online shipping service that offers individuals and e-commerce shops a fast and easy way of booking parcel deliveries.
Packlink gives you the chance to book a parcel with some of the industry's top couriers, such as DPD, FedEx, DHL and many more.
Why Packlink?
If you have an eBay shop, Packlink would be right for you if you want a quick and easy service.
Packlink Price
Packlink is directly used through eBay, so the price is determined as a final value fee when you sell an item.

shipcloud
shipcloud is a cloud shipping platform that connects you to all relevant carriers in Germany. shipcloud enables you to quickly integrate all carriers in your system environment. shipcloud allows you to send, track and return with the click of a button. Another advantage of shipcloud, is that it allows you to add your company logo to your shipping labels.
Why shipcloud?
shipcloud would be best if your business if looking for personalisation, as you are able to add your company's logo to your shipping labels.
shipcloud Price (Monthly)
Professional - £25
Up to 1.500 shipments/month incl. shipcloud business rates + your own carrier accounts.
Business - £75
Up to 3.000 shipments/month incl. shipcloud business rates + your own carrier accounts.
Enterprise- £175
Up to 30.000 shipments/month incl. shipcloud business rates + your own carrier accounts.
Individual - per request
More than 30,000 shipments

Easy Post
As the name suggests, East Post gives you the flexibility and control over your shipping processes. Easy Post gives you the ability to buy labels for USPS, UPS FedEx and more. Alongside this, they allow you to track your packages across 100+ carriers with the ability to ensure shipments.
Why East Post?
If your business frequently ships worldwide then Easy Post is a great option to start sending parcels.
Easy Post Price
Pay As You Go- 1¢ per package

Shippo
Shippo integrates with the top e-commerce platforms to streamline the fulfilment process. When a customer makes a purchase on a business' website, that order is automatically synced with Shippo so that they can manage the order. From then, they are able to print the shipping label and any other necessary documentation that needs to be sent. Once the order is fulfilled, that information is synced back to the business' e-commerce platform.
Why Shippo?
If you are a retail business that frequently sends multiple items, then Shippo is one of the best options around.
Shippo Price
Pay As You Go- 5¢ Per Shipment + Postage Costs
Unlimited Label Volume
No Monthly Fees
Best USPS Discounts
Email Support
Professional - $10/month
No Per Label Fee
Best USPS Discounts
Branded Customer Experience
Email and Live Chat Support
5 User Accounts
Premier - Contact Shippo
Technical Implementation Assistance
Best USPS Discounts
Branded Customer Experience
Dedicated Customer Support
15 User Accounts

Smart Send
Managing all of your orders can be difficult to juggle, especially when you have so many other competing priorities when running a business. With Smart Send, you can manage all of your orders in one place, putting you in control and more importantly, it's free to use.
Whether you are a start-up or a successful online business, you're probably aiming to increase your efficiency and cut down on admin time.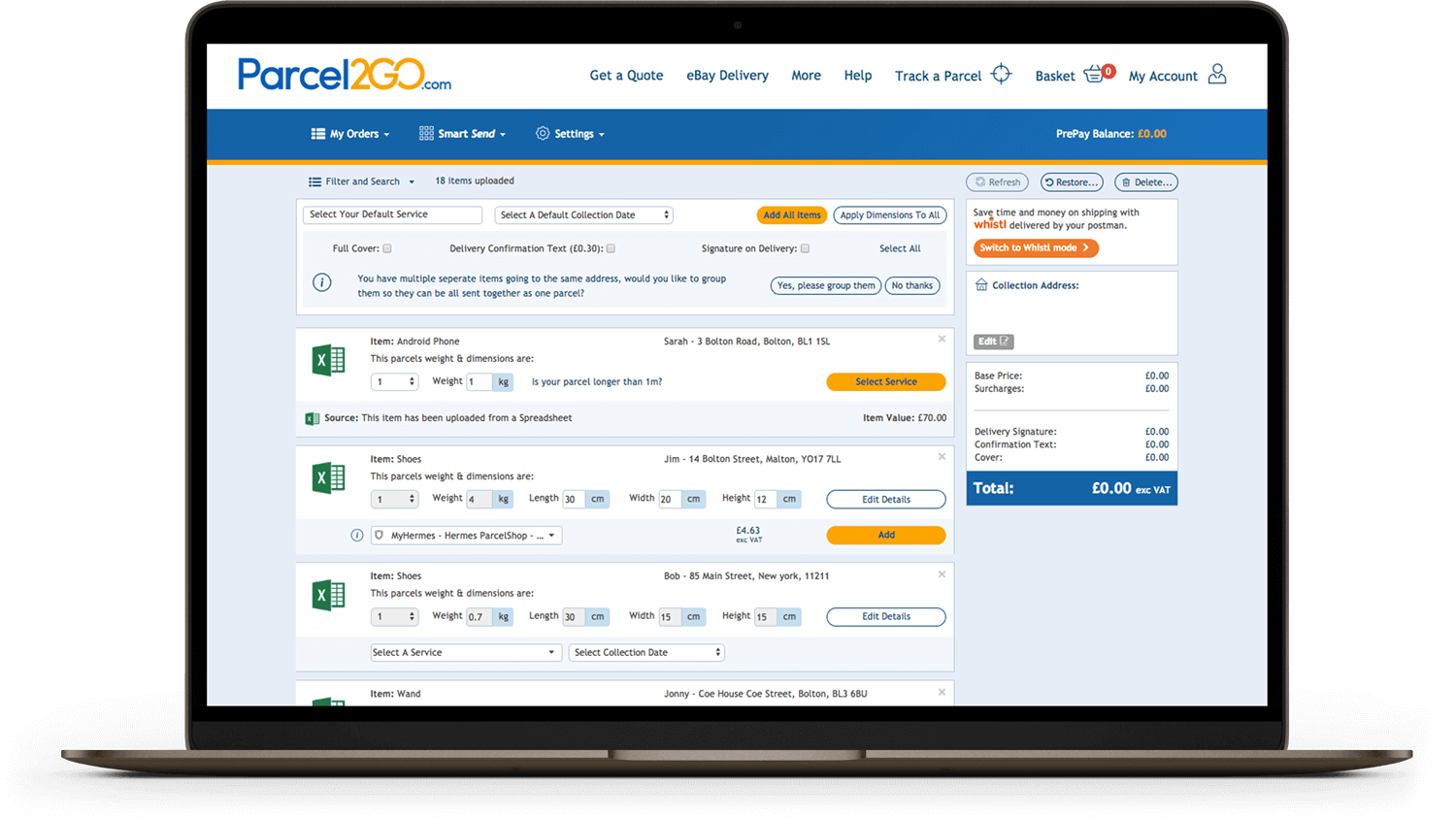 Which Platforms Integrate With Smart Send?
Smart Send is a great (and again, free!) tool when you're building up your e-commerce business. Smart Send can be easily integrated with a range of leading e-commerce suites and platforms.
If needed, you can integrate more than one platform. Once set up Smart Send automatically marks your items as sold and ensures hassle-free parcel delivery to all of your recipients.
Benefits of Using Smart Send
More control

Saves you time

No fees or contracts

AutoSend - an automated shipping feature

Bulk-editing

Rule Manager- set rules for items you regularly send
Why Smart Send?
Smart Send enables you to send with the best couriers in the industry, hassle-free. Each courier offers unique features which your business can benefit from. If you have a busy schedule, you may want to drop multiple parcels off at a drop-off point near you, or if you work from home, have you parcels collected from you just as easily.
If you're looking for the ultimate shipping solution that will not only save you money but will also make you earn money, sign up to Smart Send.
Smart Send Price
Smart Send is completely free to use.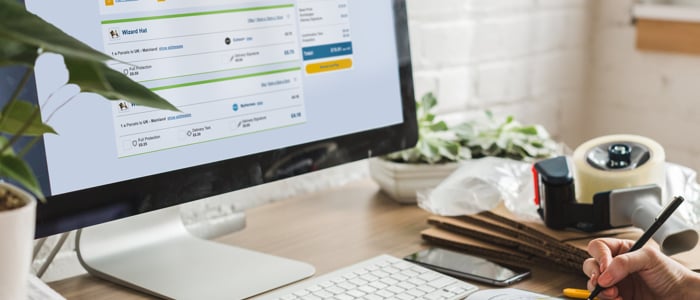 Save Money on Parcel Delivery
Each shipping solution platform has a specific set of tools to help various businesses succeed. Whether your business frequently ships worldwide or whether you need a quick and easy platform to use, Smart Send is the way forward.
Sending parcels doesn't have to be difficult. That's where Parcel2Go come in, head over to our website for the most affordable parcel prices you won't find anywhere else!
Click here to see how much you could save on parcel delivery.