Introducing Evri Small and Medium Parcel Services
With the introduction of two new services for parcels up to 2 kg — Evri Small and Evri Medium — you now have the opportunity to save even more on your sending.
What's changed?
Previously, Evri pricing was set by weight only. Now that prices on parcels up to 2 kg are based on size instead. That means if you have a parcel of up to 2 kg, you'll get either a 'Small' or 'Medium' parcel rate, depending on its size.
How you benefit
The great news is that with Small parcels, you can save up to 30% on your 2 kg parcel deliveries compared to our previous prices!
And since Small isn't as small as you might think – roughly double the size of your average shoebox – there's plenty of room for you to get in on the savings.
Plus, Small and Medium are available both for drop-off and collection services, so you save no matter how you send.
So make the most of our new Evri prices. Book a Small or Medium parcel delivery and start saving today.
Get a Quote
See prices and dimensions
Pricing
The new pricing for Evri through Parcel2Go is set out below:
| Weight | ParcelShop Drop-off | Courier Collection |
| --- | --- | --- |
| 0-1kg Small | £1.99* | £2.59 |
| 1.01-2kg Small | £2.25 | £2.83 |
| 0-1kg Medium | £3.38 | £3.81 |
| 1.01-2kg Medium | £3.38 | £3.81 |
| 2.01-5kg | £4.69 | £5.45 |
| 5.01-10kg | £6.19 | £6.55 |
| 10.01-15kg | £8.39 | £9.00 |
* All prices are exc VAT
*£1.99 price available with Smart Send
Parcel Dimensions
To make sure your parcel is suitable for the Evri service please check its size against the points below: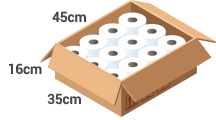 Small parcels
Small parcels are actually bigger than you might think.
If the size of your parcel does not exceed:
45cm x 35cm x 16cm
you can select the SMALL pricing category.
For example: two standard shoe boxes or twelve rolls of toilet paper.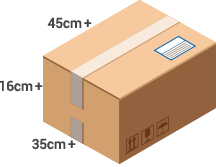 Medium parcels
Medium parcels are ideal for bulkier items.
If your parcel is larger than 45cm x 35cm x 16cm but is still under 2kg you can select the MEDIUM pricing category. Maximum length of 120 cm, with a maximum Length+Girth of 245 cm.
For example: large toys or a double-size duvet.