In the UK market, Evri have proven to be one of the most popular couriers to book with for small parcels. It's no wonder, because for the last five years Evri has boasted one of the lowest prices on 1 kg domestic deliveries that you can find.
Despite that, though, Evri found that they were often beaten on their 2 kg parcel price by Royal Mail.
Why?
Well, back in 2013, Royal Mail switched from weight-based pricing (the industry standard) to dimension-based pricing. Quotes were based no longer on the kilogram weight of a parcel, but on its given dimensions — that is, its length, width, and height.
What's changing?
Quotes for Evri deliveries up to 2 kg will now be dimension-based rather than weight-based, following the example of Royal Mail.
The clincher, though, is that the Small Evri 2 kg price is now the industry's lowest.
What that means is that online sellers can easily book a parcel delivery online. They'll get to choose whether to drop off their parcels or have them collected, and they'll get the new lowest price too.
So how does it work?
In the new Evri pricing model, parcels weighing less than 2 kg will now be classed either as 'Small' or 'Medium' parcels.
This depends on the dimensions provided.
Small parcels are defined as those that fall below the following restrictions:
Length: 45 cm
Width: 35 cm
Height: 16 cm
Those that measure in above these restrictions will be classed as medium parcels, up to a maximum length of 120 cm and a total Length+Girth of 245 cm.
From a price perspective, small parcels will receive what was previously the 1 kg rate (£2.19 exc VAT), whereas medium parcels will receive the 2 kg rate (£3.10 exc VAT).
Not sure how big that is? Well it's bigger than you might think. A 'Small' parcel measures in at roughly double the size of the average shoebox. That's enough room for twelve rolls of toilet paper (we even have pictures to prove it!).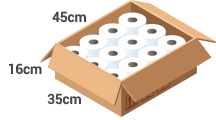 Learn More About Evri Small and Medium
What it means for you
The Evri change represents a great opportunity for thousands of sellers to get an even better rate on their deliveries.
The 'How' is simple: send smaller packages.
That's easier said than done, though, especially for sellers who send similar items in bulk day in, day out. But there is a way to ensure you land yourself in the 'Small' parcel bracket without having to compromise on your product.
Here are a few quick tips:
1. Use less packaging
This is a classic example of 'less is more'. You can reduce the size of your parcel by padding it out less with packaging materials like bubble wrap, polystyrene, and foam packing peanuts.
This is, of course, a balancing act. Too little packaging and you put your items under greater risk of breakage.
It requires a little of your own judgement.
If you're able to take a few inches off the padding, though, you can use smaller boxes to sneak into that lower price bracket.
2. Change the size of your boxes
You might see this as linked to point #1. It's often the case, though, that large boxes increase the minimum amount of packaging required.
Consider trying out a smaller box for your items to get them into the small parcel bracket. If there is still space for packaging between your item and the inner box wall, you're good to go.
3. Bunch small, heavy items together
Senders used to dispatching small items separately to get the best price now have the opportunity to bunch these items together.
This is especially beneficial to suppliers. The more items you can package into one parcel, the less packaging and work you need.
That saves time and money.
The reverse is true for light but bulky items, like sheets and clothing. Senders accustomed to bunching these orders might consider separating them to get out of the higher size bracket. Again, this should be subject to the sender's own judgement.
Played right, many senders can use the Evri change to get an even better price on their small deliveries.