Hermes is now Evri

Hermes is known for its competitive prices and no fuss approach.

Evri offers the same great value service, just with a brand new name.
About Evri: Hermes New Name
In March 2022, the courier Hermes announced that it was rebranding and is now known as Evri, delivering a fresh new look but with the same great parcel delivery service. While Hermes has changed its name to Evri, it is still owned and operated by the same company.
With the same delivery options, prices and ParcelShop locations that you know and love from Hermes, you can expect your experience with Evri to be just as easy and affordable.
With over 200 million parcels delivered every year and a vast network of over 5,000 ParcelShops and lockers, there's no doubt Evri will remain a leading name in UK parcel delivery.
Priding themselves on being prompt and highly efficient, 95% of parcels sent with Evri are delivered the first time round.
Why Send a Parcel with Evri?
Over 5,000 drop-off locations across the UK
Parcel protection up to £5,000 on selected services
Send up to 30kg per parcel on selected services
Free parcel tracking on all services
Option to print your labels in store for FREE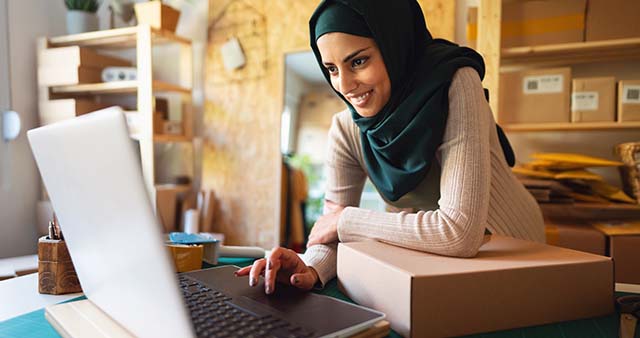 Drop Off Services

Whether you have a printer or not, you can drop your parcel off at one of over 5,000 Evri ParcelShops or lockers and see your package delivered as soon as the next working day. With the option to print your labels in store for free, shipping with Evri means securing the best possible prices for both UK and international delivery.
Check out Evri's full range of drop-off services.
UK Collection Services

Evri offers reliable door-to-door delivery within just 3-5 working days throughout the UK. With free tracking on your parcel from the moment it's collected until it reaches its destination, you can trust your delivery with Evri will arrive safely and on time.
View Evri's full range of UK services.
International Collection

Send a parcel weighing up to 15kg from the UK to Europe with Evri for an affordable and competitive price. The courier will collect your parcel between 8am and 8pm and Evri will deliver your package within 3-7 working days, no matter where in Europe you're shipping to.
For more information on shipping to the EU visit our International Shipping Hub.
Next-day parcel delivery

Evri Postable Next Day
Drop off your parcel
anytime today
2-day parcel delivery

Evri ParcelShop Postable
Drop off your parcel
anytime today
3+ day parcel delivery

Evri Collection Postable
Collection Monday
if you book in the next
9 hours