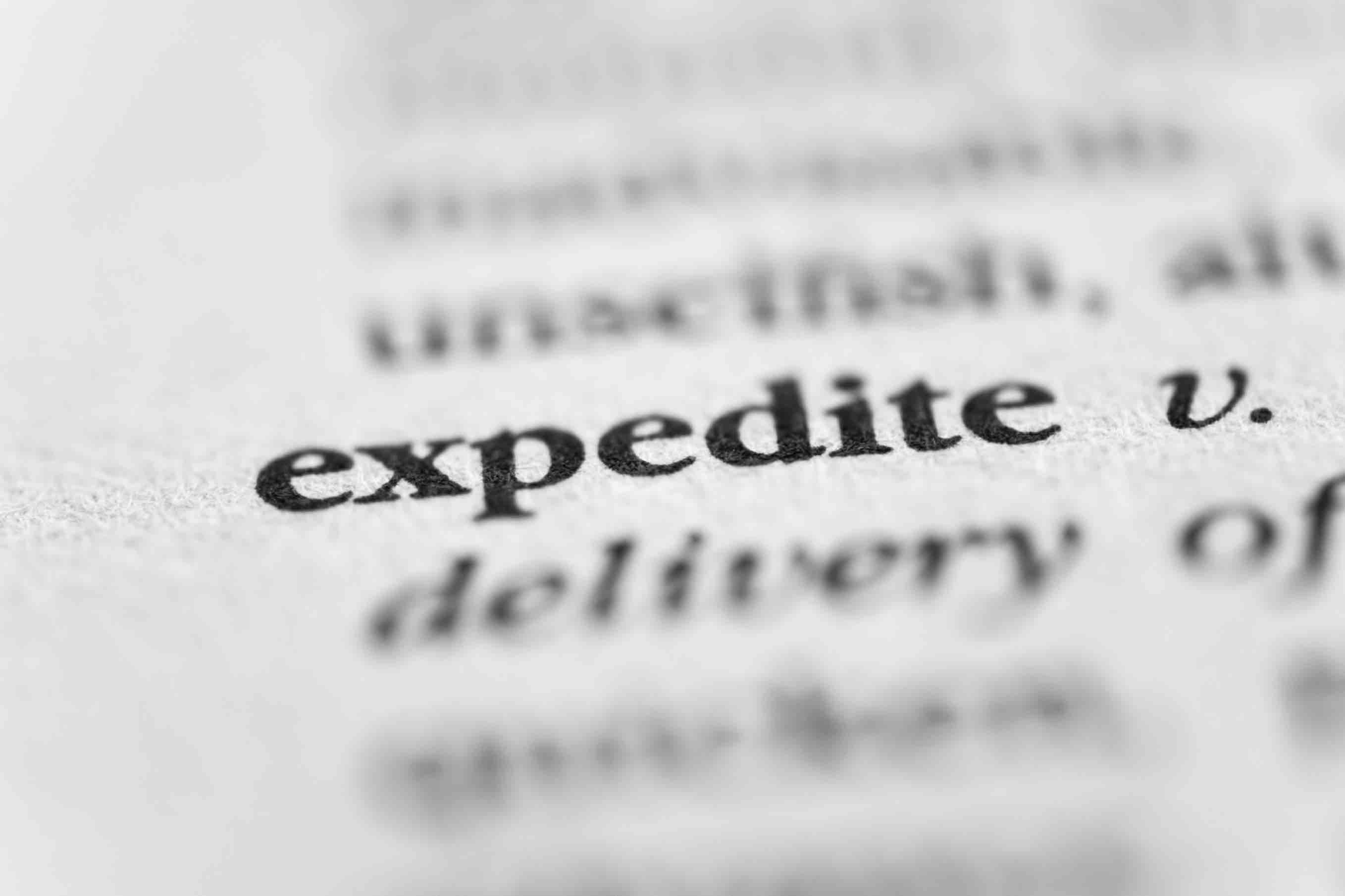 Expedited delivery is essentially when a particular parcel or consignment is prioritised over others, improving its delivery speed.
For many courier services 'expedited' is simply a means by which to describe the range of services that provide a faster delivery speed than the standard 'three working days' rule-of-thumb.
That said, 'expedited delivery' encompasses:
express deliveries (1-3 days typically for international services)
same-day deliveries
What does 'Expedited' mean?
The word 'expedite' simply means 'to perform quickly'.
The word itself is derived from Latin. The prefix 'ex' (meaning 'out') and the word 'ped' (meaning 'foot') originally came together in 'expedire' ('freeing the foot'), though soon afterwards someone swanned in with a 't' and it became 'expedite'. This is especially applicable to couriers since older systems had couriers delivering everything on foot.
Therefore, an Expedited Delivery is just a delivery that's carried out more quickly than a standard service.
What's the difference between an 'express' and an 'expedited' service?
Some e-commerce sites like Amazon and eBay offer 'expedited delivery' as a particular service, as well as express, even though the words themselves essentially mean the same thing.
Naturally, that gets a little confusing for customers.
The difference between what is classed as an expedited service and an express one really depends on the site that's offering the service. Amazon, for example, advertise Express Delivery as a next-day service in which the package is scheduled to arrive before 1 pm. Their Expedited Delivery, however, is a 1-3 day service.
To make things simpler, we break down UK deliveries into 'Next-Day', '2-Day' and '3+ Day' services at Parcel2Go.
When might I need an expedited service?
It's important that online sellers are able to offer expedited deliveries for their customers because two-day and next-day deliveries are quickly becoming the norm of the industry.
As it gets easier to order online and getting it only hours later, customers can be put off if the product they want will only really be theirs in 3-5 working days.
Anyone looking to build their business online, then, should be able to offer expedited delivery options to their customers if they want a chance to compete in an ever-evolving online marketplace.
Hopefully that clears things up a little bit. At Parcel2Go, we offer a number of expedited shipping options for you to choose from wherever and whatever you're sending.
Our expedited delivery prices
Destination
Parcelforce*
Parcel2Go**
You Save
UK
£16.49
£5.64
£10.85


Save 66%

Europe
£37.38
£7.68
£29.70


Save 79%

Rest of World
£46.85
£9.55
£37.30

Save 80%
*Prices accurate as of 24/08/2017. Prices are taken from royalmail.com.
**Prices include VAT.
Get an Expedited Delivery Quote