'How to sell on Amazon' is a frequently asked question that rarely gets answered right. Whether you're an e-commerce seller or just thinking about starting an Amazon business, we've put together this handy guide to help you successfully sell on Amazon. Make sure to follow the steps below, and we'll have your Amazon shop up and running in no time!
Amazon is the largest marketplace in the world, with millions of products sold there every day. By paying a small fee to Amazon, you can display your products in front of millions of customers. Amazon has a vast ranges of products, and differentiation from competitors can be hard, so make sure your listing stands out.
Amazon offers two selling plans which appeal to two different types of sellers:
Casual sellers - Amazon allows casual traders to sell less than 35 products per month and just pay a completion and referral fee for each Amazon sale
Professional sellers - Professional retailers can sell 35 products or more, have access to bulk listing tools. These sellers pay a monthly subscription fee and also have to pay completion and referral fees.
Let's start at the beginning by looking at how to set up an Amazon account.
Your Amazon Account
Creating an Amazon account is easy. Head over to Amazon.co.uk and register an account (if you haven't already).
Set Up an Amazon Account - In the upper hand right corner, you will see a menu marked Your Account - when you hover over it you will see a drop-down menu.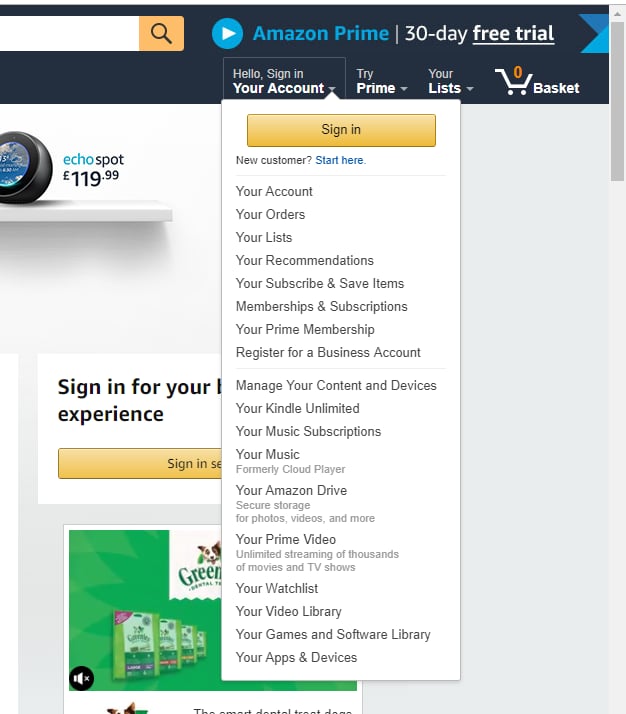 Click on Start here if you are not registered, but if you are just Sign In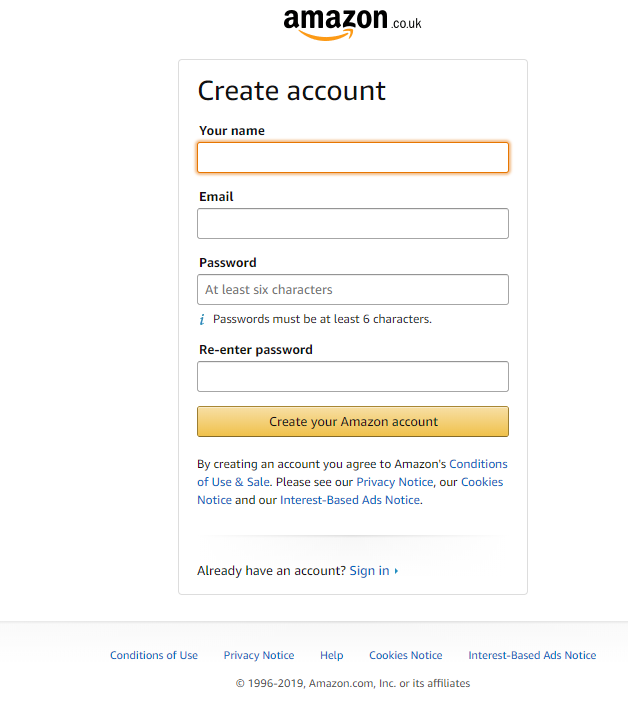 Add Your Details - You will be asked for personal details to get your account set up.
Once you have typed in your details, Create Your Account - you will now be directed back to the homepage.
Set Up Payment Information - You can find this in Your Account, and just click Payment Methods and Add a Credit Card.

Just add the details of your card and your billing address.
You will be able to see if you've done this correctly by going to Manage Your Payment Methods and see if your credit card appears there.
Add a Shipping Address - Click on Your Account again and click on Your Addresses.
Then click on Add New Address. Then Save and Continue. You are now set up with an Amazon account.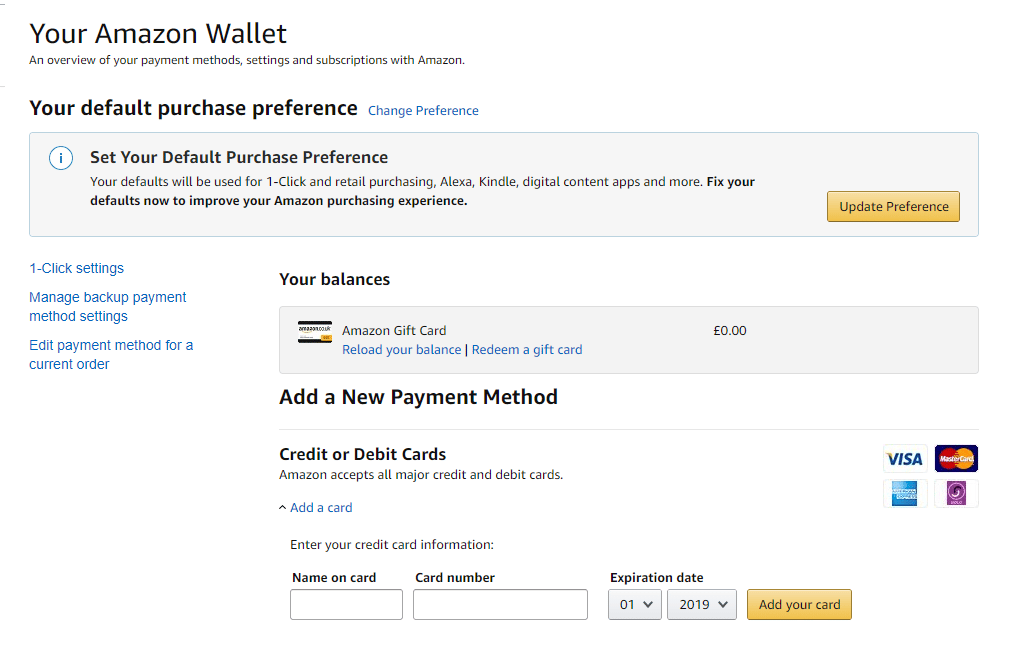 How To Sell on Amazon: To or On?
You have two options when selling on Amazon. Firstly, you can sell TO Amazon or sell ON Amazon.
Sell To Amazon
Selling directly to Amazon is an invite-only program. Selling to Amazon grants the ownership of your products to Amazon - which they will market and sell to shoppers on Amazon.
Manufacturers and traders can sell their inventory to Amazon at wholesale rates. Once the items have been shipped to Amazon, the seller is done with the products. Amazon then pays for the inventory and maintains ownership.
Amazon then sells those products as their own, dictating their own price and shipping options.
Benefits of Selling To Amazon
Ditch Marketing and Advertising - Manufacturers can avoiding direct seller communication including marketing, advertising and pricing. This saves time and money paying for those resources.
No Shipping Costs - Avoid the hassle costs involved with shipping and other logistics.
Opportunity to Sell in Bulk - Amazon can promote bulk purchases of your products.
Access to Amazon-only Features - Amazon can implement their own functionality when selling your products, for example, subscribe and save.
Sell On Amazon
This is likely the best option for you if you own a small business. More than half of sales on Amazon come from third-party sellers.
This option allows you to list your own products on Amazon Marketplace and sell items as a third-party seller.
It's important to know that this option is more work than selling to Amazon but comes with more control and potential for a higher profit margin. Here you would control the shipping and prices of your products.
Benefits of Selling On Amazon
Draw New Customers to Your Shop - The Amazon Marketplace is vast, which means sellers can gain exposure to new shoppers through the Marketplace (many of which may never encounter your shop otherwise).

Increase Shop Exposure - If your shop is on Amazon, it will likely get a lot more monthly visitors as the platform is so popular.

Increase Sales - Shoppers come to the Marketplace with the intention of buying products or at least looking to browse.

Marketplace Benefits- Amazon Marketplace is known for its reliability and ease of online shopping, which could save you with tricky issues that may crop up if you decided to create your own website to sell.
Amazon Seller Fees
There are twooptions when selling on Amazon: Individual or Professional.
Individual sellers pay £0.75 for each item sold on Amazon, with an additional closing fee that depends on the category of the item you're selling.
Professional sellers pay £25 per month with an option to cancel at any time. Professional sellers still pay variable closing fees and referral percentages ranging from 6% to 25% but are exempt from the £0.75 per item fee.
If you are looking to sell 40 or more products a month then you should opt for the professional plan.
Breakdown of Amazon Seller Fees
Professional seller costs:
A monthly subscription of £25
Referral fees on each item sold (% varies by category)
Variable closing fees (% varies by category)
Individual seller costs:
No monthly subscription fee
£0.75 per item fee
Variable closing fees (% varies by category)
Fees such as shipping and wrapping are paid for by the customer.
Selling on Amazon: Need to Know
When registering on Amazon, you can only create a single selling account.
Providing clear and detailed information on your products builds trust.
On Amazon, provide your business name so that the buyer remembers your company.
Constantly updating and keeping your business information current is essential.
Prevent delays by keeping credit card and bank account information updated.
Choose shipping rate settings so that you keep your buyers informed.
What to Avoid
Registering for multiple accounts is strictly prohibited
Including website URL's in product feeds, business name, or other company information that might refer buyers to your or another website.
Thinking other sellers are doing it right. Double-check the practices to ensure you are selling in the right way, don't be led by others.
Product Photography for Selling on Amazon
Ensuring your product photos are clear and promote quality is crucial for your items to send.
When taking your photos of your products, remember that you are competing against other sellers that are selling similar products to you, and you need to stand out.
When potential customers see your products, the pictures should be clear and show every angle. Customers will be put off if your pictures are either blurry or don't demonstrate your products properly.
Here's an example we liked for displaying your products on Amazon:
How to Price Your Products on Amazon
As an individual seller, your end goal is to sell 35 items a month, or over 35+ if you are a professional seller. Either way, having authentic product reviews and providing the best customer service to your Amazon customers will have them coming back to your shop.
Consider all of your costs when setting your prices. You want to beprofitable on Amazon, but at the same time provide potential customers with a compelling proposition so your product stands out among its competitors.
Think about how you're going to be competitive, rank for your most important search terms and get your product on page one of Amazon's search results.
To build customer trust and a sustainable brand on Amazon, keeping your prices stable is essential. However, there are exceptions:
Short-term price drops, flash sales and giveaways can be incredibly effective in increasing your sales rank, especially during peak times.
Before you think of cutting prices below profitability, keep in mind that you will only be successful once you can generate organic sales with a good profit margin.
If your products is on the more expensive side, that's when reviews and customer service come into play - show them your products are worth splashing the cash on!
Encourage Reviews
After you've made a sale, you need to make sure your customers are leaving reviews. Reviews are crucial for driving sales on Amazon. The more you have, the more credible and trustworthy customers will perceive your products to be. So what are the next stages after you sell a product?
Send a follow-up email to customers and ask for a product review. However, Amazon requires you to follow a strict set of guidelines which don't allow marketing messages, links to other websites (including your own), incentivised positive reviews in these emails.
How to Optimise Your Amazon Products
Just listing your product on Amazon and hoping for sales is not enough to be successful. You need to drive traffic from external sources to your product pages as well as organic traffic on Amazon.
Here are some strategies you can use to help optimise your products:
Construct an email list to boost your sales at product launch
Here's how you can build an email list:
Build your own website - if you want your business to grow, bringing customers to your site with email marketing is a must.
Use package inserts - Amazon sellers are allowed to include a small card, technically a thank you card, which can go a long way when it comes to creating a personal packaging experience. But make sure you don't violate Amazon's terms of service.
Free content - offering helpful content in exchange for an email address is a great way to attract customers as it can provide value to your targets.
Use targeted Ads to define your target audience and create a post that will show up directly on the user's Facebook feed
There are multiple platforms where you can use Ads:
Facebook targeted ads - Facebook has 2 billion active monthly users and there targeting tools are quite sophisticated. They allow you to show your ads to people most likely to convert and become customers.
Amazon's own PPC platform - Amazon provides an array of options including Display ads, Video ads, Custom ads and Amazon DSP.
Google Adwords - with Google, you can reach more relevant customers within your budgets. You can grow your business by only paying for results, like clicks to your websites or calls to your business.
Use influencer marketing, i.e. the hands of bloggers and YouTubers to promote your products. With Google owning Youtube and it being the second biggest search engine in the world, Youtube will help your product reviews which in result will show up first in Google search.
Amazon listing SEO - having keywords in your listings as well as great product images will improve your Search Engine Optimisation and ultimately improve the ranking of your website. By carrying out thorough keyword research on tools such as SEMrush or SE Ranking, these websites will guide you on how to improve your ranking in Google.
Remember: without product reviews, you will struggle to sell anything on Amazon.
Amazon Shipping Advice - How to Ship Your Amazon Products
Amazon Seller Central and Amazon FBA (Fulfilment by Amazon)
Now that you've registered with Amazon, its time to set up your seller account. Seller Central is your seller management dashboard, from which you can:
add inventory
manage orders
set and change product and shipping prices
promote your products via Amazon's integrated paid advertising options
Once you've set up your account, it's time to start listing the items you want to sell. In most cases, fulfilment by Amazon will be the best option for you to fulfil your products. Basically, you deliver your products by pallet directly to an Amazon's warehouses. There they are stored, sorted, packaged and shipped to buyers for a commission - meaning you never have to handle or store your stock.
How Amazon FBA Works​
Add your first product by going to Inventory at the top of your screen and click Add a Product. ​
You will then be prompted to search for your product.
Once you've selected your product, you'll be taken to a screen to enter your product information.
Then prepare your items to be shipped to a Fulfillment by Amazon warehouse (your products may ship directly from the factory to FBA)
After following these steps, your logistical work is done. Amazon will then take care of the following steps once your product arrives at their warehouses:
Verify that you have sent the correct items in the proposed condition you have stated.
Activate your listings - your seller name will appear on the product detail page and your item will be available for sale.
Store your items in their warehouse until a customer orders them.
Once your items are ordered by a customer, an Amazon member will ship the item to the customer.
Once the item has been shipped, Amazon will deposit your share of the sale into your seller account. Your share is the selling price minus Amazon's fees.
Then, every 2 weeks you will receive a deposit to your bank account for items that have sold for the prior 2 weeks.
Benefits of using Fulfilment by Amazon
As your products are within Amazon's immediate control and can be dispatched quickly, your items are available for all Prime shipping benefits - such as next day delivery - without you having to pay more for shipping
Shipping via Prime will have the same return policy as items that are sold by Amazon.co.uk themselves, so you won't have to handle returns
Extreme confidence and trust that customers have in Amazon means your items will sell faster, which the Amazon warehouse can keep up with
Smart Send: A Great Alternative to FBA
While FBA is a popular option for SMEs (small and medium enterprises) selling on Amazon, it is far from the only solution out there.
Whether you're a casual sender or a power seller, Parcel2Go's bulk shipping and management solution, Smart Send, is cheap, easy and more importantly - free! You can link Smart Send to your Amazon account, as well as your own website and any other marketplaces you sell on, giving you more control over your listings whilst saving you time and money.
Benefits of Smart Send include:
Import items and buyer details in seconds

Tweak, remove or bulk-edit your orders at any time

Book all of your orders with a single click

Access to the UK's cheapest parcel delivery
Offer a range of express delivery options for your customers to rival FBA

Easily resolve disputes with comprehensive parcel tracking features

Boost your seller rating by booking your orders in record time using our automated shipping options
With FBA, you relinquish control of your products, whereas Smart Send allows you to own every part of the shipping process. Click here to find out more about Amazon deliveries with Smart Send.
If you decide to fulfil orders yourself, setting your delivery rates for your items can be split into three simple ways:
Item/weight-based delivery - When a customer buys your products, Amazon applies the flat per-delivery rate and the appropriate per-kilo or per-item delivery rate for the order.
Price-banded shipping - This option lets you create ranges or bands of order prices. Each price band has its own delivery rate. When a purchase is made, Amazon reviews the total order value, then identifies which band the total falls into and then applies the delivery rate you specified for the price band.
Weight-tiered shipping - This lets qualified sellers create tiers by order weight for freight shipping. Each weight tier has its own rate. When a purchase is made, Amazon identifies the tiers from the total order weight and then applies the flat per-shipment rate and delivery rate for each weight tier you have specified.
When shipping with Amazon, be sure to read their strict requirements and always pack your shipments to Amazon correctly to avoid damage, delays and penalty fees. Choose the correct size for your units and make sure you have sufficient packaging material so that the box will not collapse under the weight of heavier boxes during the shipping process. Remember to:
Wrap your items separately
Use adequate packaging material
Use a single address that is clear, with all delivery and return information
Selling on Amazon might be a no-brainer for many ecommerce businesses, but it's not for everyone. We hope you've found this guide to selling on Amazon helpful and no matter where you sell, remember that Parcel2Go is the cheapest way to ship your products in the UK. And working with the most trusted couriers throughout the country means you can always rely on our delivery services - get your parcel delivery quote today.