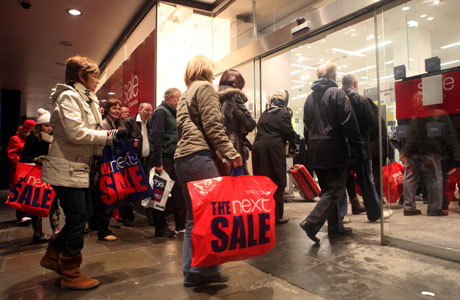 The beginning of the year showed a healthy start to online shopping, after recent figures found sales of non-food products in the UK grew 19.2 per cent in January compared to 2013.
The strongest January since 2009, last month's online clothing sales also saw a sharp hike – accounting for 21.2 per cent across the sector. According to the BRC-KPMG Retail Sales Monitor, they had risen by 13.5 per cent in January 2013 versus the year before – while overall retail sales experienced an increase of 5.4 per cent in contrast to last year.
Also showing a strong performance in sales was both clothing and footwear, as due to the poor weather conditions forcing people indoors, found a high demand for garments such as blouses and nightwear as well as slippers.
Director general of the British Retail Consortium, Helen Dickinson, said: "Another strong set of sales figures, up 19.2 per cent for non-food items in January, showed the continuing growth of online and its increasing importance as part of the retail mix in the UK.
"There's no doubt that online is driving structural change within the sector and retailers will continue to invest heavily to provide the seamless experience between channels that today's shoppers demand. Our figures showed that 17.4 per cent of all non-food spending is online and we're expecting this number to continue to rise as operations become more efficient, collections more convenient, deliveries faster and technology more integrated."
Head of Retail at KPMG, David McCorquodale, said: "With growth at 19 per cent and penetration from online sales running at 17 per cent, this channel is much more than the new frontier for retailers and really is the growth engine for the sector. Many retailers are investing heavily in analytics and supply chain fulfilment to drive personalisation of offer to the consumer and differentiate themselves from competitors through delivery performance. As online growth drives about a third of non-food sales expansion, retailers are doing all they can to fully embrace the growth prospects offered."