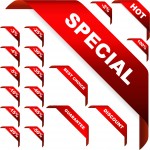 Daily deal sites used to be a way for businesses to increase exposure for their company and ultimately drive sales.
However, they have had a pretty bad reputation in more recent times, sparked from all the negative press surrounding Groupon and how it can actually be bad for business.
However, you shouldn't avoid using daily deal sites completely or avoid any kind of online offers; there is definitely still value in using them… if you go about it in the right way.
So, here are the top 5 tips from successful business entrepreneurs;
1. Use Retargeting and take advantage of cart abandonment
As part of your marketing strategy, you can use online offers to retarget customers with banners. You can also turn shopping cart abandonment into a positive by sending relevant offers via emails to lure those shoppers back.
Pablo Palatnik of ShadesDaddy.com says; "Nevertheless, if you want to build a sustainable business, never make discounted product your only value proposition."
2. Encourage quick sales
Why not offer online discount or promotional codes to first time buyers? This encourages people to buy from you, instead of your competition.
DC Fawcett, Paramount Digital Publishing says; "A scarcity component drives the people who may be on the fence to take the leap."
3. Customise and learn
Don't make the mistake of using daily deal sites and discount vouchers to simply increase conversions. Use them as a trial and error method to learn about your customers and their behaviour online. Unique codes can be created for each of the different channels so you can then test and see what works best.
Anderson Schoenrock, ScanDigital says; "Create custom codes for partners and then test different discount formats to maximize conversions based on real data."
4. Join forces with affiliates
Encourage affiliates to market for you by giving them a discount code they can offer to their audience. This can then easily be tracked through the affiliates sales.
Sean Ogle, Location 180, LLC says; "In the end, users get discounts, your affiliates get commission and you get new customers."
5. Distribute through partners
Increase the size of your audience by partnering up with another business which has the same target market as you (not a competitor of course though!). Offer special discounts which they can then hand out to their database. This will increase your reach, exposure and sales.
Pete Kennedy, Main Street ROI says; "We set a time-based deadline or quantity-based limit. And we provide partners with commissions on sales, so they have an extra incentive to promote the offers."
Do you use online offers and deals to attract customers? Has it worked for your business?