As one of the UK's most trusted couriers, Royal Mail sends millions of parcels every year throughout the UK and worldwide! You can rely on Royal Mail to get your parcel from point A to B without any hassle each time. And when you ship with Parcel2Go, you'll always get the best Royal Mail prices, starting from £8.00 exc VAT.
If you've got a question about Royal Mail, we've got you covered:
What services do Royal Mail offer?
More than anything, Royal Mail is known for posting letters through your door each day - but that's not the only service they offer. With over 14,000 drop-off locations across the UK and collections available from your front door, you can rely on Royal Mail to deliver your parcel with ease! And have the added peace of mind in knowing where your parcel is on its journey with our free tracking tool.
We work hard to offer the cheapest international shipping from the UK. We have negotiated the lowest Royal Mail prices for you to keep your Royal Mail postage costs low, while still receiving the best quality service.
Royal Mail Collection
With Parcel2Go, you can get a Royal Mail international collection from your destination of choice for no extra cost - starting as little as £8.00. Your parcel can be delivered to over 178 destinations worldwide in just 3-7 working days!
And there's no need to worry about labelling your parcel! When the driver arrives to collect your parcel, they'll also attach the shipping label for you.
Royal Mail Drop Off
With over 14,000 locations in the UK, there's no shortage of options with Royal Mail international drop off! Be the boss of your shipping and drop your parcel at a time and place that best suits you.
Offering shipping to some of the world's most popular destinations, you can send your parcel to one of 178 destinations in just 3-5 working days in Europe and 5-7 working days Worldwide.
Do Royal Mail deliver on Sundays or Bank Holidays?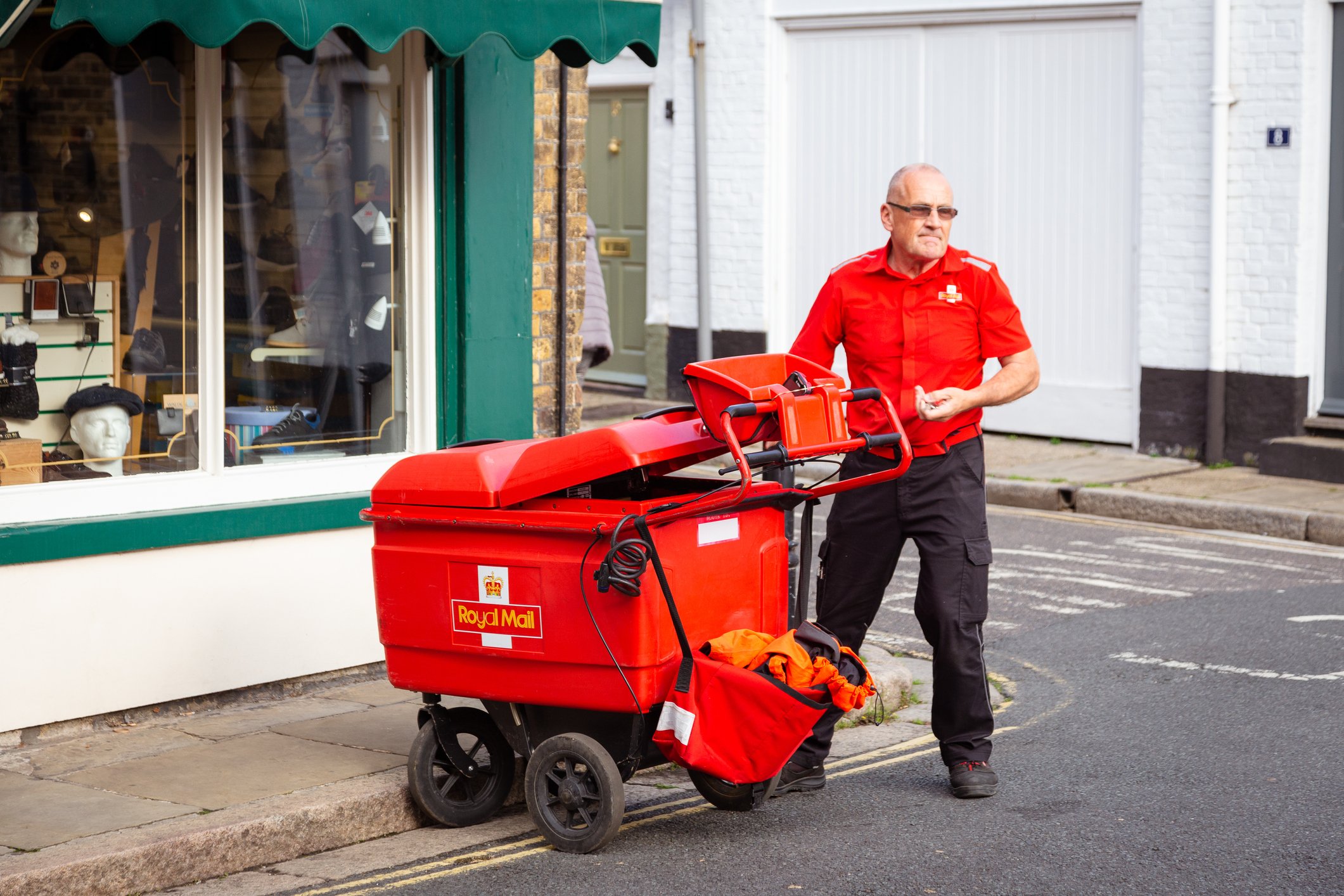 Since May 2022, Royal Mail only post parcels on Sundays if items are ordered from certain large retailers with a next day delivery service. If you are sending a Royal Mail parcel yourself, it will not be delivered on a Sunday and will instead arrive Monday - Saturday.
Royal Mail does not deliver on Bank Holidays.
Do Royal Mail deliver on Saturdays?
Yes! Royal Mail delivers on Saturdays between 7am and 3pm (4pm for rural areas).
You can track Royal Mail parcels you've ordered with Parcel2Go for free, so you'll know exactly what day your shipment will arrive on
What time does Royal Mail deliver?
In the UK, Royal Mail delivers from 7am until 3pm (4pm for rural areas). Internationally, your Royal Mail parcel will usually arrive within 3-5 working days, but because of time differences, it may be delivered later in the day. This will usually depend on the country you're shipping to.
If you book your Royal Mail postage with us, you can track your parcel for free so you'll know exactly when it will arrive. Click here for Royal Mail tracking.
Can I ship internationally with Royal Mail?
Yes! With Parcel2Go, you can ship internationally with Royal Mail Collection or Drop Off at some of the best prices in the UK.
Simply get a quote to see how much you could save!