What exactly is a parcel delivery scam and how can you protect yourself from them?
A typical parcel delivery scam will start with a text or email about a failed delivery of a package to your address. These messages may request a small fee to arrange redelivery and will urge you to click a 'tracking link' to update your delivery or payment preferences.
Some of these links will direct you to websites that prompt you to enter personal information or may inform you that your phone is infected with malware, and you should download anti-virus software. They may also direct you to a scam phone line where the operator will attempt to verify your account details and credit card number, or even try to make you pay a charge for releasing your parcel or a customs fee.
What do Fake Parcel Text Scams Look Like?
A parcel delivery scam text can look very convincing, especially when you are expecting packages to be arriving.
This is an example of a Royal Mail scam text:
Unfortunately, parcel delivery scam texts are becoming the most common forms of smishing – where criminals impersonate legitimate companies with text messages targeting consumers.
These types of smishing texts are now three times more prevalent than scam texts from cyber criminals pretending to be banks.
How to Stop Scam Delivery Texts
The best way to stop scam delivery texts is to report any 'missed parcel' message that looks suspicious.
You should never click any links that appear in the text message or install any apps if prompted. If there is a phone number provided in the text message, do not call the number.
You can report parcel delivery scamming for free by forwarding the text to 7726. If you don't know how to forward a text message from your phone, you can find instructions online.
Once you've forwarded the message to the spam-reporting service, delete the message off your device.
What is the Royal Mail Scam?
With so many of us using Royal Mail delivery, these scam texts can be very difficult to spot even for the savviest consumers.
The messages may look genuine, but there are a few key things you can look out for helping you distinguish a fraudulent message from a genuine one.
How to Spot a Royal Mail Scam Text
Check for a current list of Royal Mail scams on the Royal Mail website. This will give you a good idea of what to look out for.
A Royal Mail scam text will always contain a link. If you're in any doubt that the text might be a scam, don't click the link and go to the Royal Mail website by typing the web address into the search bar. You can track your Royal Mail items on their website, or use Parcel2Go tracking if you booked through us.
Subtle clues in the web address might also alert you that the text is a scam.
Check for spelling mistakes, poor grammar, and lack of personal greeting.
Beware of urgent demands for money or suggestions that there is a risk of losing parcel if you do not act immediately.
The number the text message came from is a clear indication of if it is a scam. Many scammers cannot hide their number, so a text from an unrecognised number pretending to be from the Royal Mail is likely to be a smishing attempt.
What to Do if You Get a Royal Mail Scam Text
You should forward the text message to 7726.
You can also report parcel delivery scam texts to Royal Mail via email at reportascam@royalmail.com.
What is the Evri Parcel Scam Text?
Recently, fraudsters have been sending smishing texts pretending to be from Evri prompting the recipient to rearrange delivery via a link. They are then prompted to download an app which installs spyware on their phone.
If you get a text from Evri that looks suspicious, follow the same checklist as above to help you decide whether it's a scam. Do not click any links or buttons if you're unsure. Go directly to the Evri website to track your parcel if you're expecting a delivery, or you can track your Evri parcel here or use Parcel2Go tracking.
When Evri contact you by text or email, they may sometimes genuinely contain a tracking link. However, the following tips will help you distinguish a genuine text message from a fake one:
Evri will never show the sender's name as a mobile number
They will never ask you for payment
The only links Evri will include in their text messages will be tracking links. These will appear as https://evri.link/... But if you're unsure, do not click the link and navigate to the tracking section via the Evri website or on Parcel2Go's website if you booked through us
DPD Delivery Scam
DPD delivery scams often take the form of phishing emails or smishing texts.
To protect yourself from phishing, always check the email address the message has come from is valid. If it looks suspicious, don't click it.
Fraudsters will often substitute numbers for letters in links to make these look valid, so check them carefully. If in doubt – do not click them.
Check for parcel delivery scamming emails by looking for the following characteristics:
Poor language and grammar
Lack of personal greeting
A vague email address that is different to the normal DPD email address
A link or button that prompts you to click it urgently
A DPD delivery scam could also take the form of a smishing text. The message will pretend to be from DPD and will usually ask you to click a link to re-direct, re-deliver, or pay duties on a parcel. The links may be malicious, giving criminals access to your personal information and financial details.
You can identify DPD scam texts by:
You can identify DPD scam texts by:
Lack of personal greeting
Obscure and urgent links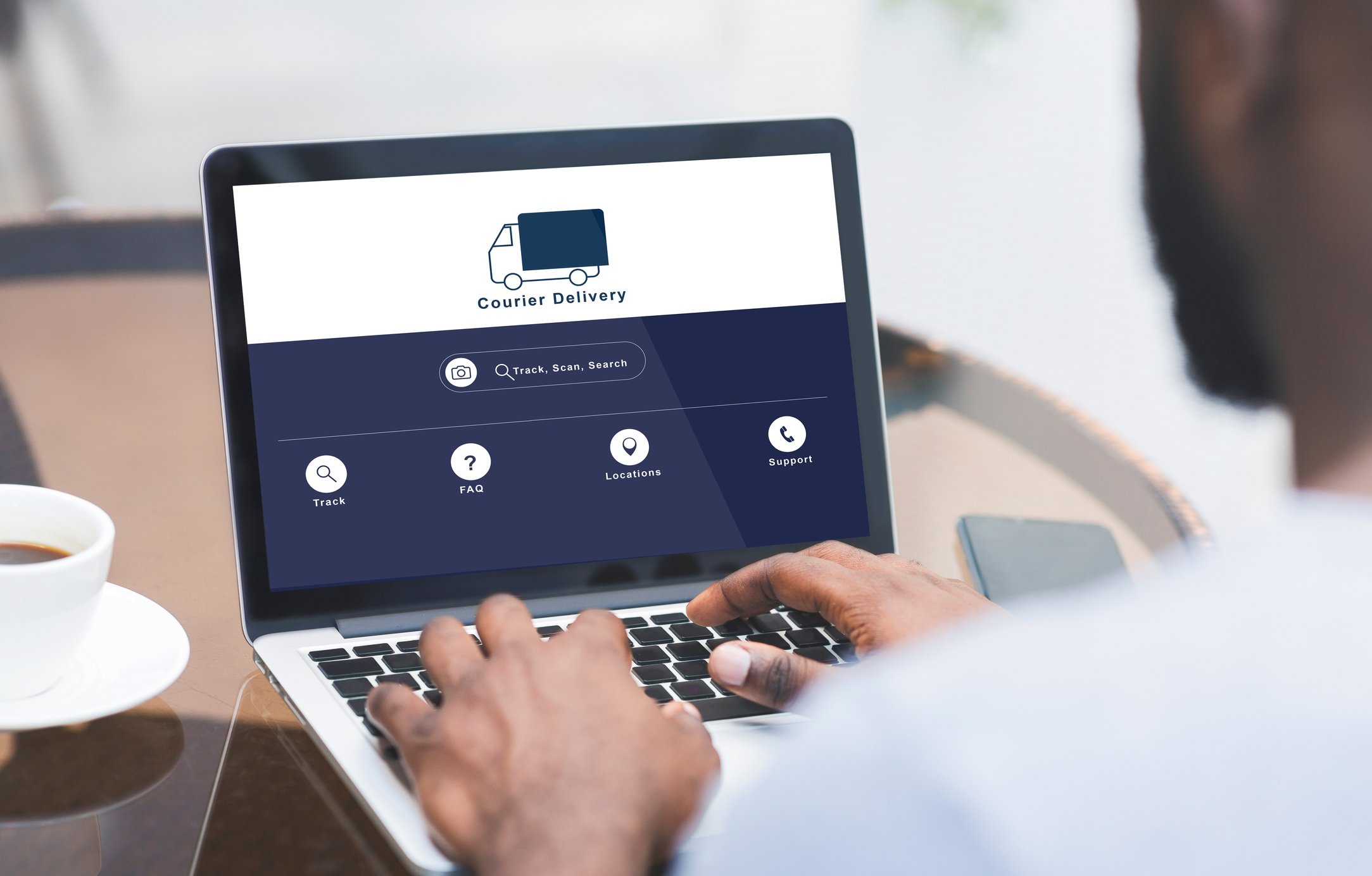 What are Courier Scams?
Courier scams involve people selling items online on marketplaces such as eBay or Facebook marketplace, who fall prey to fraudsters posing as buyers prepared to pay an advanced fee for the item.
Facebook Marketplace Courier Scams
Victims of Facebook marketplace scams will typically receive emails from buyers stating that they are prepared to pay the full price for the item they are selling, but that they cannot view or collect the item and will arrange for a courier to pick it up. The buyer will then send a fake payment receipt designed to look like it has come from PayPal.
During the conversation, the buyer will request that the seller pay the courier fee. They'll send a link for payment – once they make the payment, they will break contact leaving the item uncollected. However, the money for the fake courier will already have been taken.
To avoid falling victim to this kind of courier fraud, you can take the following steps:
Check the payment receipt carefully – if possible, wait until you have received the payment
Check the feedback of the buyer online, including searching any phone numbers or email addresses provided by them
Always avoid paying any advanced fee when selling an item. If you choose to use a courier, arrange your own. Parcel2Go can help you out with cheap parcel delivery which is easy to book online yourself
If you are a victim of courier fraud, you can report it to Action Fraud on 0300 123 2040 or online at www.actionfraud.police.uk
This national campaign offers straightforward advice on how you can protect yourself against phishing, smishing, and online fraud – especially when criminals impersonate trusted organisations.
They recommend the following to help you stay scam-savvy as criminals become increasingly sophisticated at impersonating trusted organisations.
Stop

Think before giving away personal information or parting with your money.

Challenge

It's ok to question whether it could be fake. You don't have to respond to any request – only criminals will try to rush you.

Protect

If you think you've for a scam, report it to your bank and Action Fraud immediately.
At Parcel2Go, we aim to keep our customers as safe as possible from parcel delivery scams. You can trust us to deliver your parcels safely and on time, but make sure you use the right tracking links and always stay savvy before clicking on parcel delivery update links in emails and texts.