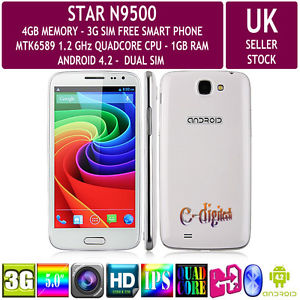 Online auction site eBay has barred the sale of Star smartphones manufactured in a Chinese factory, after reports surfaced that the device had been pre-installed with malware.
Disguised as the authentic Google Play Store app, the Google Android-powered N9500 model monitors phone user behaviour – with the Trojan allowing cybercriminals to remotely control the phone and compromise mobile activity.
"Due to reports that some Star 9500 smartphones are loaded with spyware, eBay is not allowing the sale of these devices as a precautionary measure," a spokesperson explained.
Despite the little-known Star brand failing to compete with bigger names such as Apple and HTC, its appeal could be down to its appearance being similar to the Samsung Galaxy S4 – along with its sale price going for a third of the cost.
Security agency G Data said the issue had been brought to their attention following tip-offs from its customers.
"The spyware runs in the background and cannot be detected by users," it stated.
"Unbeknownst to the user, the smartphone sends personal data to a server located in China and is able to covertly install additional applications.
"This makes it possible to retrieve personal data, intercept calls and online banking data, read emails and text messages or control the camera and microphone remotely.
"The program also blocks the installation of security updates."
It is unknown whether the manufacturers deliberately planted the malware on these handsets, or a flawed security check meant the malware was able to sneak its way onto the devices.