It's hard to deny that the internet has revolutionised all our lives. Actually leaving our houses to buy new clothes or do the weekly food shop is a thing of the past now – we don't even need to speak to someone on the phone to order a taxi anymore!
With so many services available on demand now, it got us at Parcel2Go thinking – what type of deliveries are the most searched for? Are there any services that the public are calling out for that don't yet exist? We took to Google and social media to find out…
What Are You Searching For?
By using Google's autofill suggestions and cross-referencing these phrases against monthly search volumes, we were able to create a definitive list of delivery types that the general public are searching for each month.
The Results - Auto-Complete Searches
First, we looked at some of Google's autofill suggestions, where the search engine predicts what you'll type using popular search terms.
These included:
"nandos delivery uk"
"how can I get mcdonalds delivered"
"where can I get breakfast delivered"
"can I get alcohol delivered"
"I need flowers delivered today"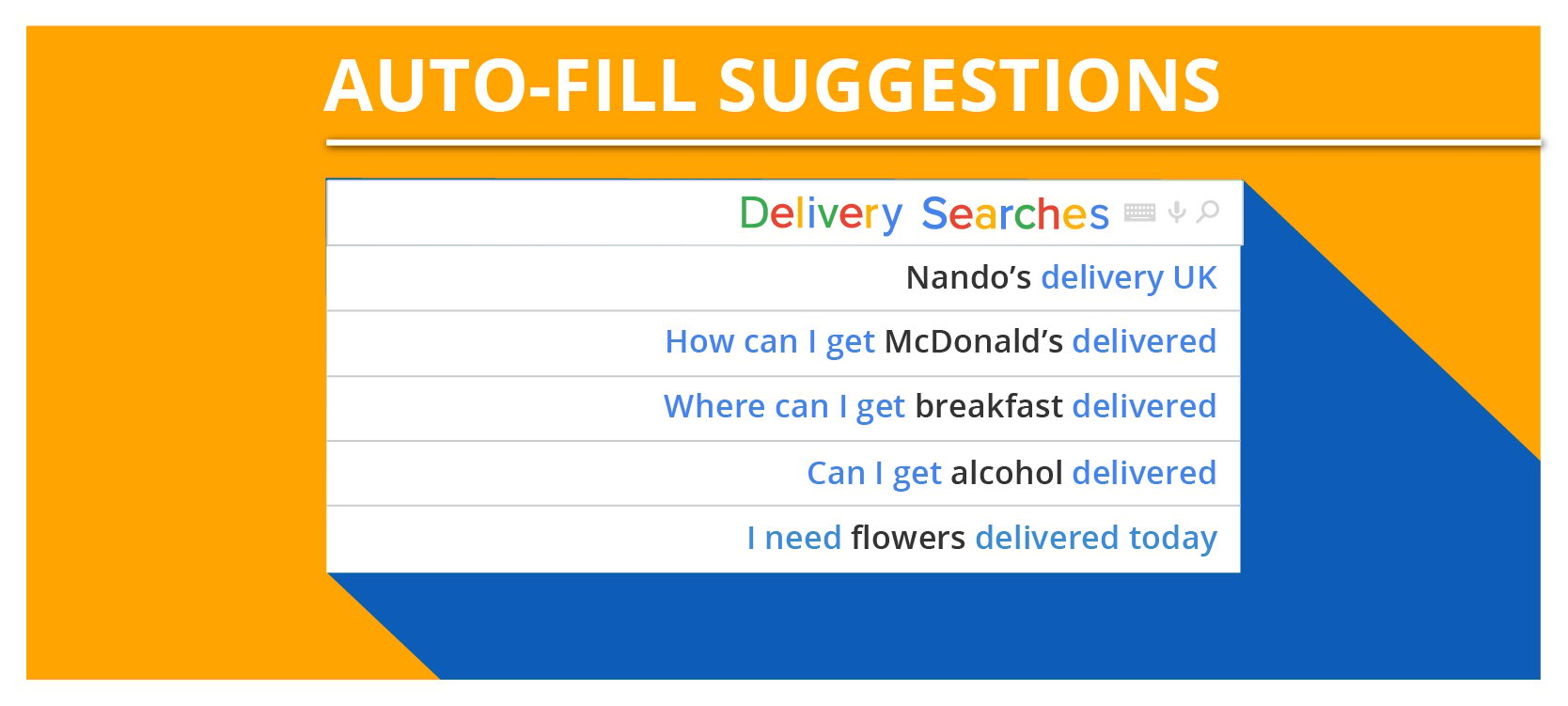 The Results – Search Trends
Next, we looked into search trends to see if they correlated to the above auto-complete suggestions.
From the results, it's safe to say that we like our food and drink delivered right to our doorsteps. Interestingly, searches for "flower delivery" peaked in March (with 201,000 searches compared to the usual average of 110,000), implying that floral arrangements are still a classic go-to present for Mother's Day.
A closer look at search volumes on Google confirmed this – the term "alcohol delivery" had an average of 4,400 monthly searches, "food delivery" had 22,200 monthly searches and on average "McDonalds delivery" was searched for a staggering 33,100 per month.
Lo and behold, McDonalds fed this appetite for fast food deliveries, launching their delivery service in the UK back in June with UberEats. Following the announcement, searches for "McDonalds delivery" were shown to spike, with 110,000 searches in July 2017.
Besides food and drink, other searched-for delivery requests included "hangover delivery" and even "toilet paper delivery". Admittedly, the latter had significantly lower search volumes, but we just hope Google was able to help those 10 people a month getting caught short!
Calling Out on Social Media
Next, we decided to take to social media to see what other deliveries were in public demand. As you'd expect from the weird and wonderful world of the internet, some of the suggestions toed the line between madness and genius!
Here are a few of our favourites: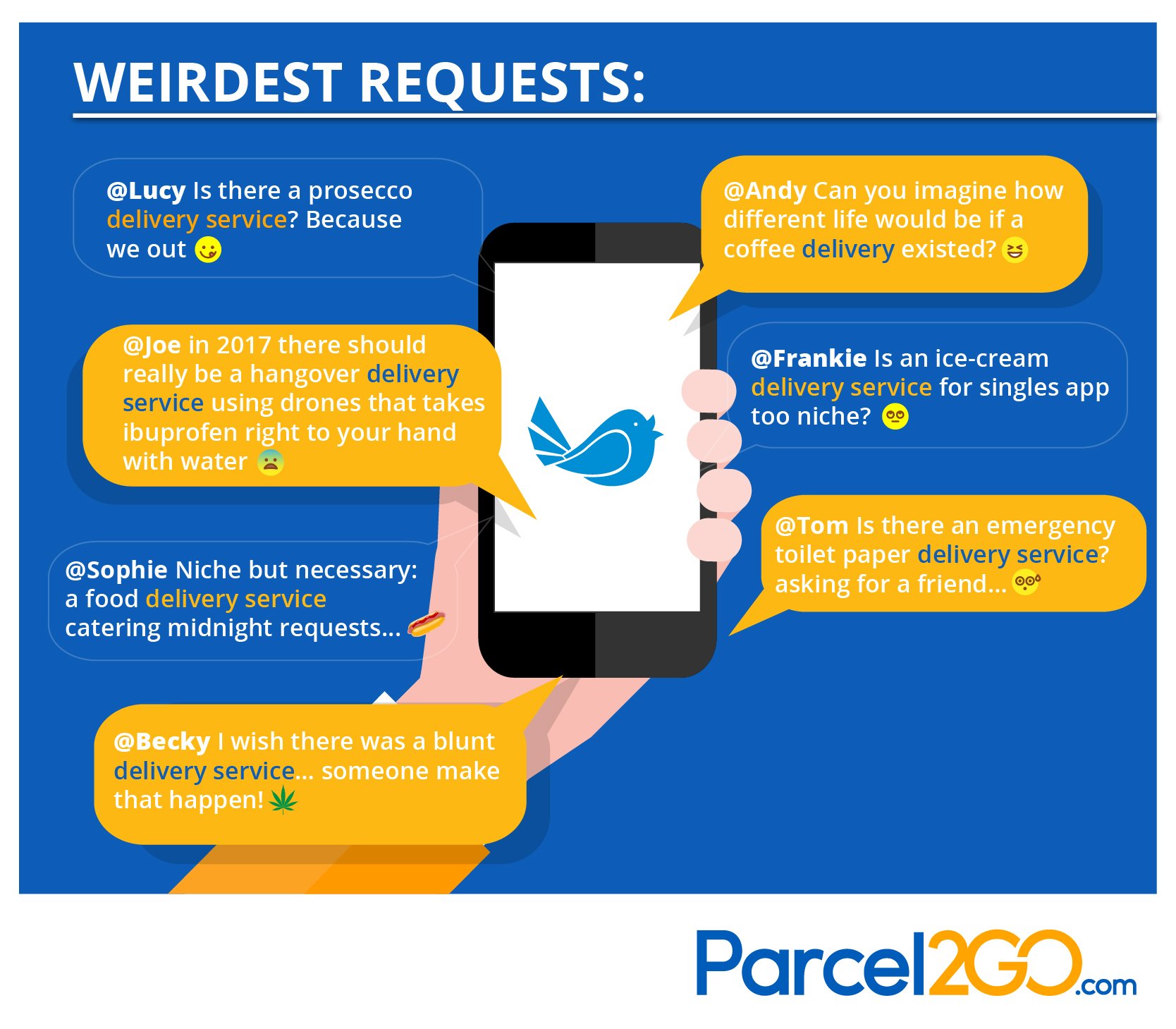 @User1 can you imagine how different life would be if a coffee delivery service existed?
To satisfy sweet cravings
@User2 am I the only one that wishes there was a delivery service for pick n mix
@User3 Niche but necessary: a food delivery service catering for midnight requests...
@User4 in 2017 there should really be a hangover delivery service using drones that takes ibuprofen right to your hand with water
Revolutionising the booze run
@User5 is there like.... a prosecco delivery service? Because we're out
@User6 Is an ice-cream delivery service for singles app too niche?
@User7 Is there an emergency toilet paper delivery service? asking for a friend…
What Did We Find Out?
The demand is clearly there for food and drink to be delivered right to our doorsteps, and we can see this from the growing popularity of companies like UberEats and Deliveroo, which are making our lives infinitely easier and gradually becoming staple apps that we couldn't live without.
Sure enough, the delivery industry has stepped up its game to give the public what they want when it comes to food and drink, but it will be interesting to see how the demand for related delivery services in other areas, such as the medication and home essentials examples above, might impact future business models.
Personally, we can't wait for the perfect weekend when we can get our favourite takeaway and a few bottles of prosecco ready for a night on the town, and then a morning-after hangover delivery (complete with a strong coffee and a few other remedies) all delivered right to our door!