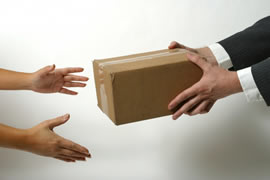 Online retailing in the UK is on the rise, with figures in April showing that sales online had jumped by 13% in just one year, and that figure is only predicted to rise even further. But online shopping is only the beginning of a customer's journey, that starts when they click buy and ends when they are completely satisfied with the parcel they have received. With busy work schedules, family commitments and enjoying weekends with friends, it can be incredibly difficult to find the time to stay at home to receive something you have ordered.
In a survey conducted by Parcel2Go.com, more than 600 people were asked the question 'Have you ever taken a day off work to wait for a parcel delivery?' An overwhelming 72.7% of people surveyed said they had never needed to skip work in order to ensure a parcel delivery, with 27.3% saying they had. The results showed that women were more likely to stay at home, with 28.2% saying yes, compared to 25.9% of men.
These results suggest that people aren't having to fit their deliveries around their working lives anymore; we all know the familiar despair caused by an infamous 'Sorry we missed you' card, and then the pain of having to reschedule or, even worse, travel to the delivery office to pick it up. As technology develops and the parcel delivery industry along with it, we now have next day delivery with the future promising services such as delivery drones and a one-hour service, it's only natural that customers should expect to control exactly when their item arrives.
Flexible delivery
Whilst we wait for the future to come to us, delivery companies should be looking to adapt their delivery techniques in order to suit the customer's schedule. Some of these are easy and will already be in place, such as allowing the customer to choose their delivery address so they can ask for parcels to be delivered at work instead. Other options include having a parcel left at a neighbour's house, or in a safe place chosen by the customer.
However, sometimes neither of these options are available, and that's when it gets tricky for both the customer and the courier, but not impossible. All delivery companies need to do is adapt their services or offer additional ones in order to ensure the customer is completely satisfied with the entire ordering process. All that's needed is a little bit of forward thinking and innovation.
Stick to your promises
If you state that an order will be delivered on a certain day, then make sure you follow through on that promise. Although the results of the survey show that people are less willing to skip work, there is no doubt that customers will rearrange their plans in order to ensure that they receive a delivery. Imagine if you had changed your day around just to wait for a parcel, only for it to fail to turn up.
If a delivery date has been specified and communicated to the customer, then it is up to the delivery company to ensure that the parcel makes it into the customer's hands on that day. If, for any number of reasons, the delivery cannot be made, then the customer should be informed quickly and with apologies.
Keep in touch
Leading on from the previous point, one of the best ways to ensure customer satisfaction is to keep the lines of communication with the customer open as much as possible. Once an order has been placed, customers will usually receive a standard order confirmation and then a second email when it has been shipped. But some couriers may email, or even text, the day before the delivery to inform them that the parcel is on its way.
A step further in courier/customer communication is to allow people to view their orders online and track their whereabouts. This is incredibly simple to do, usually through a tracking number so they can see whether their order has been dispatched, or is on its way. This easy function gives customers that extra peace of mind knowing that they can discover exactly where their order is.
Exceed expectations
Just like next day delivery is now expected to be offered, many customers will now just expect for courier companies to offer such services as order tracking, but just like with everything else, it's all about going above and beyond what the customer expects to deliver the best possible service. By informing the customer of when their order will be delivered, and giving them the option to reschedule for a date and time that suits them, retailers and couriers are showing customers that they truly care about them receiving the order, and are willing to work around their commitments. This gives customers faith in your service, and shows you are going the extra mile.
The future is promising us so many innovative and exciting delivery options that would solve a whole host of problems, but until then, couriers must look to themselves. It wouldn't be fair to ask customers to take a day off work in order to wait in for a delivery, yet our statistics show that at least a quarter of the people surveyed saying they have felt the need to. As a company providing a service, it is up to the courier to fit around their customers by providing flexible delivery times, options to re-arrange and even to pick up their parcel, in order to guarantee customer satisfaction.