Commercial Invoices
For UK consumers sending goods to recipients in the EU, there are a number of steps that need to be taken to satisfy customs obligations. The most important of these relate to commercial invoices and commodity / HS codes.
Don't worry! Parcel2Go is here to help you steer clear of avoidable shipping delays caused by incorrectly completed documentation.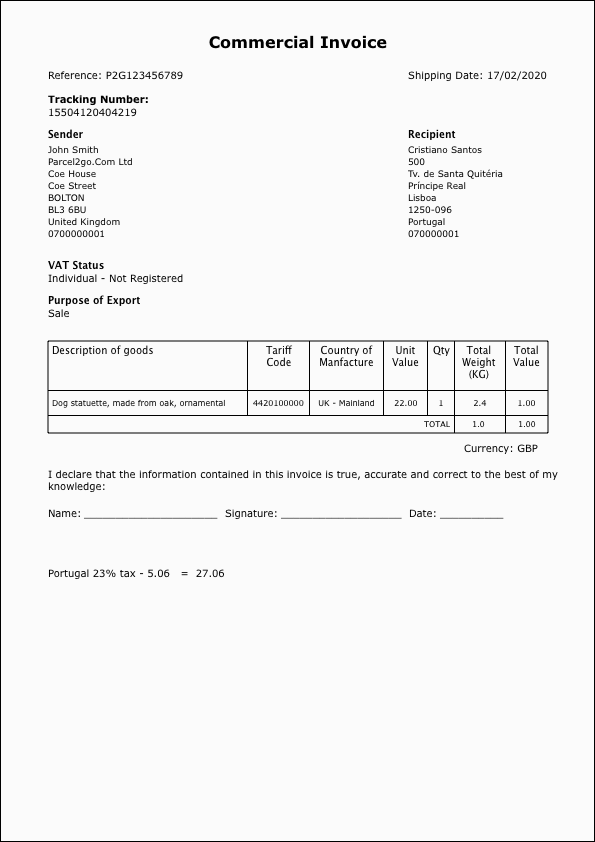 What is a Commercial Invoice?
A commercial invoice is a document that contains important information about your parcel. If you're based in the UK and are sending goods to EU recipients, you need to complete and attach commercial invoices to your parcels.
How Do I Complete a Commercial Invoice?
When you ship with Parcel2Go, this process is really easy! All the documentation you need to complete a commercial invoice is provided at the end of the booking process. We even automatically collect and import description details for you!
All you have to do is:
Accurately describe the goods you're sending using a commodity code (more on that below!)
Ensure that your customer's address and contact details are correct
We'll send you a copy of the commercial invoice with instructions along with your labels in the order confirmation email – simple!

Our Top Tips:
Providing a local phone number & email address allows customs officials to easily get in touch with your recipient to clear their parcel.
Commercial Invoice Top Tips
The best way to avoid shipping delays and to navigate customs without any headaches is to make sure your commercial invoice is completed.
We've put together this list of top tips to help you every step of the way!
1. Item Description
Describe clearly what you're shipping. Let customs authorities know exactly what's in your parcel. The description should explain what you're sending, what the goods are made of and - if applicable – what they're used for. Remember to include all items you're sending in the description.
A Good Description: 'Dog statuette, made from oak, ornamental.'
A Bad Description: 'Gift' or 'Carpet' are too vague and are likely to be flagged by customs to investigate and cause delays.
2. Item Value
If customs question your valuation, it could cause delays and penalties. Make sure to list the value of the goods in the currency you specify on the invoice.

Our Top Tips:
Even if you're not sending a purchased item with a clear value, give an indicative estimation. For example, it you're sending a scarf knitted at home, you should enter the cost of the wool as the value of the item.
3. Country of Origin
Make sure to clearly state where the goods you're shipping were manufactured. Remember that 'country of origin' can be different to where goods are shipped from.

Our Top Tips:
'Country of origin' information is important to include as you may have to pay additional duties and/ or taxes, depending where your goods originated.
Commodity/HS Codes
Here's What You Need to Know
If you're sending a parcel to a recipient outside of Great Britain, some couriers may ask for a commodity code. These are also known as a tariff code or a HS code (Harmonised System).
These codes are used to identify the item(s) so border officials can check they're safe and legal, and calculate any duties owed. Using the correct HS code can prevent unnecessary delays to your parcel.
HS Codes can be anything from six to a twelve digit number, but don't worry – looking up and classifying goods is really easy on Parcel2Go!

Our Top Tips:
When it comes to describing your goods for customs, a HS code alone isn't enough. You also need to provide a complete description of your goods on your commercial invoice. See the Commercial Invoice Top Tips above.
Look Up a HS Code
Click the button below to see how our tool* works when finding your Commodity Code.
Prohibited Items
Make sure the items you're sending adhere to your prohibited and restricted items list*.
View Prohibited Items
* You will find the above tools within the order journey to assist you in sending your items.
How to Classify Goods on Parcel2Go
It is your responsibility to make sure your items have the correct HS code attached. On Parcel2Go, HS code look-up is a fully integrated part of the order journey, so it's really easy to classify the goods you're sending!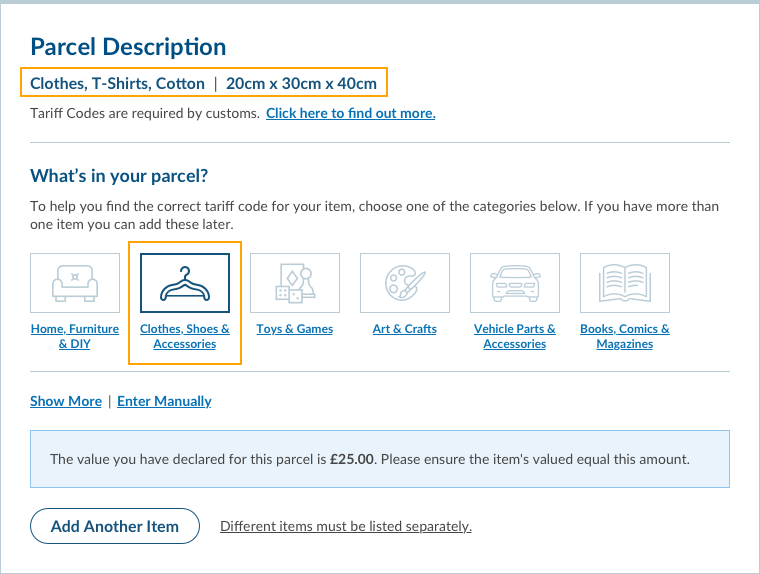 Using the description of your parcel contents you entered in the order journey, our system will suggest closely matching HS codes. This allows you to quickly review and select the right code. If you're sending a common item – such as a 'book' or 'trainers' – your goods can be classified in a few clicks.
How to Manually Select Your HS Code on Parcel2Go
In the following scenario imagine your business has sold a 'Hand-made wooden dog statuette' to a customer in France. Here are the steps you would take to make sure you have the correct HS code.
---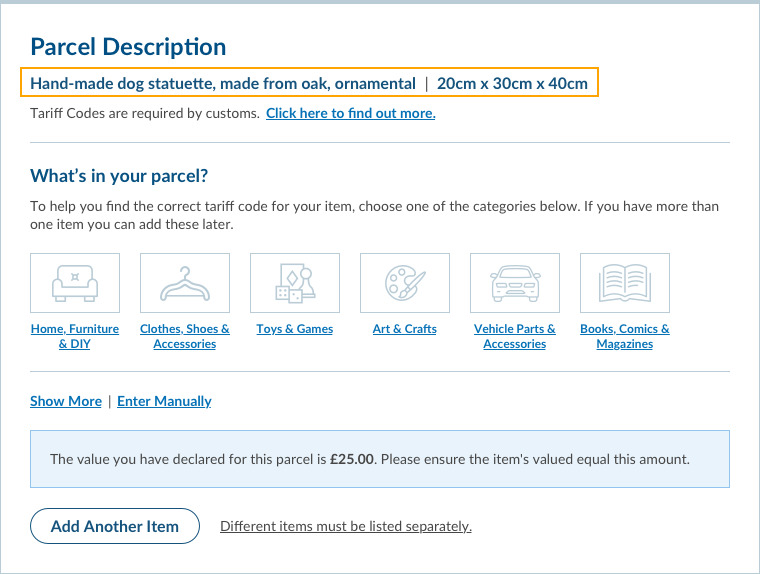 Before you arrive at the Customs Details page, within the order process, you're asked to describe the parcel contents in a few words. You enter 'Hand-made dog statuette, made from oak, ornamental'.
The description is brought through to the Customs Details page and will be used to suggest potential codes.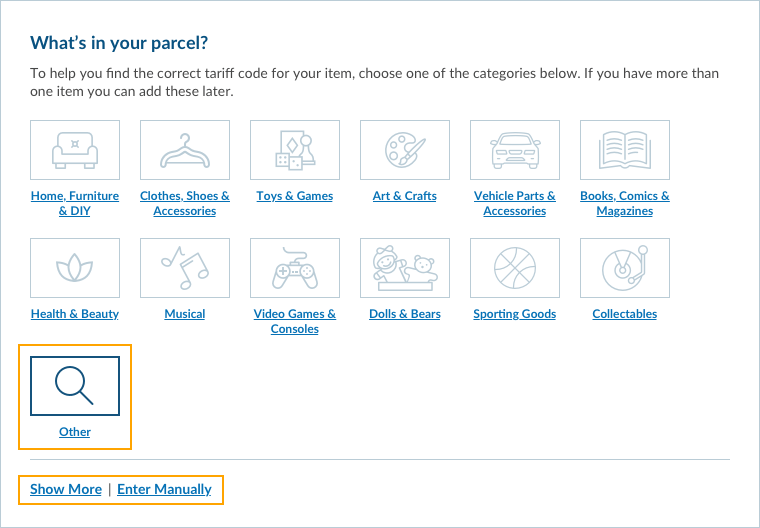 Under the Parcel Description section you will find several pre-populated suggestions.
There are 12 categories to choose from, click on 'Show More' to see all of these.
The statuette you're sending doesn't seem to fall info any of the categories so you go ahead and clock on 'Other'. At this point you can also click on 'Enter Manually'.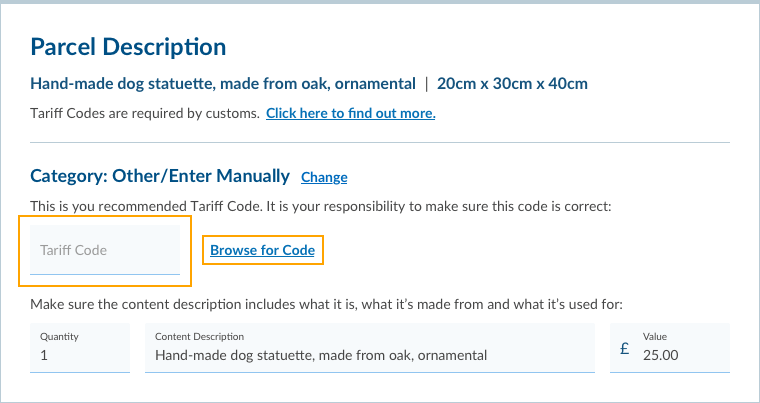 If you are already familiar with HS codes and you know the correct code you can enter this manually in the Tariff Code field provided.
Otherwise click on 'Browse for Code' to search through the database of codes.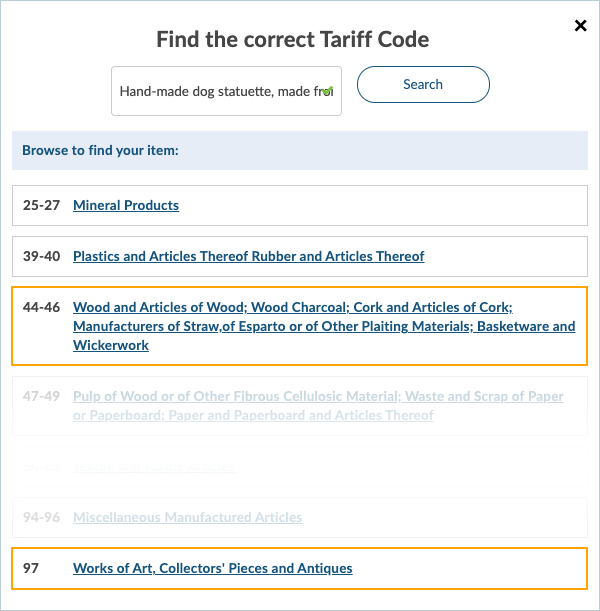 When the pop-up shows, you will see the full list of categories available. You will need to browse these and the sub-categories to find the closest match to your item. The descriptions here are being pulled through from the UK Government database.
Remember: HS Codes are used to identify an item within a box. So therefore the code needs to represent what the item is made from, in this case it's wood.
Looking at the pop-up there are two possible matches:
'Wood and Articles of Wood...'
'Works of Art, Collectors' Pieces and Antiques'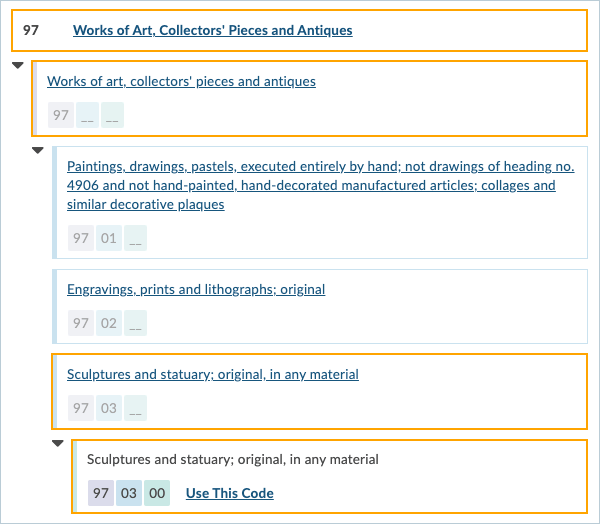 Option 1:
Upon clicking 'Wood and Articles of Wood…' (44-66) you can see that none of the sub-categories makes sense for the wooden statuette you're shipping, so you 'Start Again'.
Option 2:
Click on the Works of 'Art, Collectors' Pieces and Antiques' (97) category. Browsing the sub-categories here looks like you can find a relevant option.
You settle on 'Sculptures and statuary: original, in any material' as you're sending a handmade (original) statuette (statuary), made from oak (any material)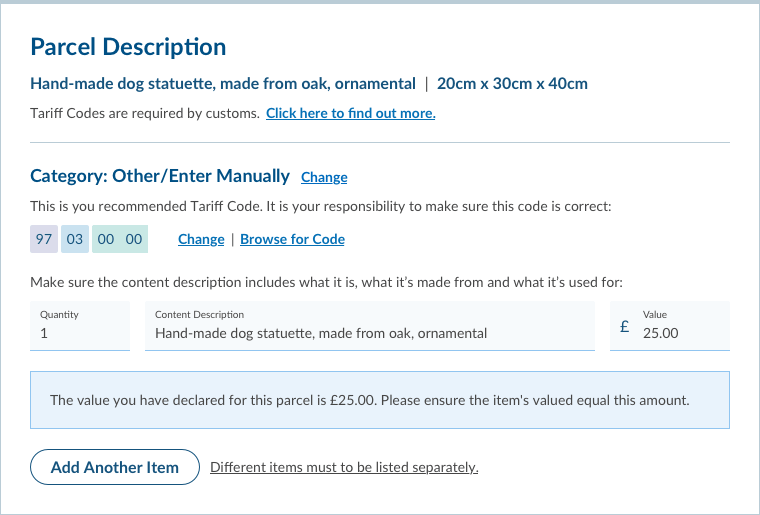 Once you're happy with the chosen code select 'Use This Code', which automatically populates your code in the form field. With your goods successfully classified, you're free to continue with the booking journey – easy!