Loads more options...
Delivery Locations
Parcel Tracking Links
Our Range of Courier Services
About Parcel2Go.com
Parcel Delivery Tools
Choose Your Country
Nightline NI UK Standard
Price From:
€20.00 exc VAT
Parcel delivery within 1-4 working days from Ireland to the UK. Day Definite collections are not guaranteed but currently enjoy a 96% success rate (*90% delivered next day).
Collections are between 9am – 5.30pm.
Buy This Service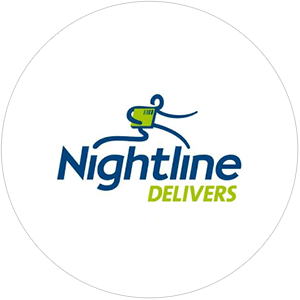 Choose us over the standard postal service and save money when you want to send a parcel from Northern Ireland to the UK. Our entirely online service means that you won't even have to leave the comfort of your home or office to book a courier collection, let alone queue for a cashier or pay premium prices.

We only work with the best people for the job and that's why we recommend Nightline Delivers for all your delivery needs from Northern Ireland to the UK. Nightline Delivers know the ins and outs of every village, town and city as well as the best way to get your parcel from collection point to delivery address and all for a competitive price. Once you've booked your courier using our domestic delivery service we will send you a confirmation email with a reference number which you can then use to access your own personal parcel tracking page. This allows you to see collection, shipment and estimated delivery dates and keeps you in the picture; great for those sending urgent or valuable items.

Contact our customer service team for any help and advice by phone or via our Live Help service which allows you to log on from any computer and ask questions. Whether you have a query about the Northern Ireland to UK service or one of our other services such as USA delivery, we're always here to help.

Other great services include the parcel volume calculator which takes all the hassle out of working out how big your parcel is in order to book a courier and the postcode finder. Both of these are available free of charge and are just two of the ways in which we aim to make sending a parcel to anywhere in the world from Ireland easy and quick.
Great value residential collection to residential delivery


Free €50.00 compensation cover for loss & damage
25kg maximum parcel weight
100cm maximum parcel length
5 cubic feet maximum parcel size