Loads more options...
Delivery Locations
Parcel Tracking Links
Our Range of Courier Services
About Parcel2Go.com
Parcel Delivery Tools
Choose Your Country
Nightline UK Standard
Price From:
€17.89 exc VAT
Parcel delivery within 2-5 working days from Ireland to the UK. Collection and delivery are not guaranteed.
Collections are between 9am – 5.30pm.
Buy This Service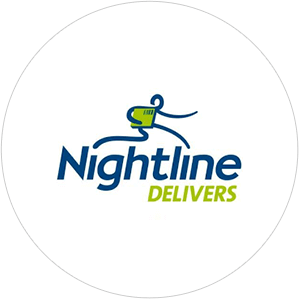 Sending a parcel to the UK from Ireland couldn't be easier than it is when you choose our Ireland to UK service operated by Nightline Delivers. We are dedicated to offering you the most reliable service at the most economical prices and our services are suitable for all needs and budgets. We aim to deliver your parcel within four working days of collection and while we can't guarantee it a large percentage of our deliveries are made the next day.

Nightline Delivers has been delivering parcels from Ireland to the UK for years and they know exactly how to keep your parcel safe and how to keep costs down. Take advantage of this service today by booking online and telling us the weight and size of your parcel as well as the collection and delivery addresses. Please note that your parcel must not be bigger than five cubic feet, heavier than 25g or longer than 100cm. If you're not sure how to work out the volume, please use our free online parcel volume calculator which does all the hard work for you.

Check out the rest of our delivery options which include Europe Delivery and USA delivery, all at competitively low prices from the most reputable couriers.
Great value residential collection to residential delivery


Free €50.00 compensation cover for loss & damage
25kg maximum parcel weight
100cm maximum parcel length
5 cubic feet maximum parcel size
Barry
Great service, would recommend it to anyone
Couldn't believe we could get it delivered so cheaply, will be using the same service for a return run. Great service, collected the day we wanted without any hassle.
---
I booked a parcel to my friend in Spain who moved there a few years ago and I must say I was quite worried as I've never done this before so I logged on to their live help who helped me all the way, they gave me a price and then did the order online for me to make sure everything was done properly f
...
or me! Highly recommended.
[More]
---