Loads more options...
Delivery Locations
Parcel Tracking Links
Our Range of Courier Services
About Parcel2Go.com
Parcel Delivery Tools
Choose Your Country
Nightline Northern Ireland Delivery
Price From:
€12.60 exc VAT
Parcel delivery within 2-5 working days throughout Ireland.Parcel delivery within 1 working day throughout Ireland.

Collections & Deliveries are not guaranteed, but currently enjoy a 96% success rate

Collections are between 9am – 5.30pm.
Buy This Service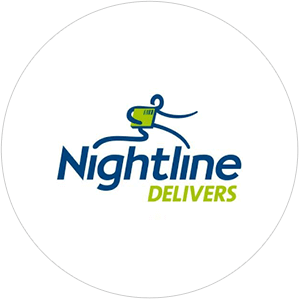 If you need to send a parcel from Ireland to Northern Ireland then you've come to the right place because Nightline Delivers have got this journey down to a fine art. They have been delivering parcels across Ireland and Northern Ireland for years and their knowledge of the geography and transport systems means that they also know the quickest and cheapest way to get your parcel from A to B.

When you book collection with Nightline Delivers through us your parcel will automatically be insured up to the value of €50.00 at no extra charge so you can send your item or items with complete confidence. As long as your parcel is no longer than 100cm, does not exceed five cubic feet and weighs no more than 25kg we will aim to deliver your parcel within four working days, meaning this service is suitable for urgent deliveries.

Our prices are competitively low and they could be even lower if you send more than five parcels a day from Ireland to Northern Ireland or using our Europe delivery service when you sign up to our daily pickup account. If you need help with any of our services, give our team a call or log onto Live Help from your computer.
Great value residential collection to residential delivery


Free €50.00 compensation cover for loss & damage
25kg maximum parcel weight
100cm maximum parcel length
5 cubic feet maximum parcel size
This service uses the greater of actual weight and volumetric weight when calculating price.
Click here to calculate a volumetric weight.