Loads more options...
Delivery Locations
Parcel Tracking Links
Our Range of Courier Services
About Parcel2Go.com
Parcel Delivery Tools
Choose Your Country
Nightline Express
Price From:
€10.95 exc VAT
Parcel delivery within 1 working day throughout Ireland.

Collections & Deliveries are not guaranteed, but currently enjoy a 96% success rate

Collections are between 9am – 5.30pm.
Buy This Service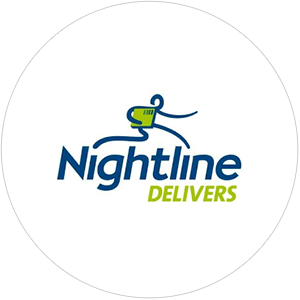 Use our Ireland to Ireland service to send your parcel and take advantage of the great low prices offered by Nightline Delivers. As long as your parcel does not exceed 100cm in length or five cubic feet in total size and it doesn't weight more than 25kg, we'll deliver your parcel within one working day for a great low price.

Nightline Delivers' Ireland to Ireland service is a great value option for those looking to send a parcel anywhere within the country and with the parcel tracking service you will be able to see exactly where your item is up to with your unique reference number. Nightline Delivers is a reputable courier and knows the cities, towns and villages of Ireland inside out, meaning there will be no delay in your parcel reaching its destination and recipient.

With this service you will automatically be given parcel insurance for free up to the value of €50.00 which covers both loss and damage. To minimise the risk of delivery for any domestic delivery it is important to package your item adequately using good quality packaging supplies such as bubble wrap, padded envelopes, parcel tape and sturdy cardboard boxes. Send a parcel using Nightline Delivers today and your parcel could be there sooner than you think.

Great value residential collection to residential delivery


Free €50.00 compensation cover for loss & damage
25kg maximum parcel weight
100cm maximum parcel length
5 cubic feet maximum parcel size
This service uses the greater of actual weight and volumetric weight when calculating price.
Click here to calculate a volumetric weight.
This service was so easy to use and reliable. I will definitely use this service again, they collected on time and I didn't need to contact them, was there the next day even though I had booked a 3 day service!
---