Loads more options...
Delivery Locations
Parcel Tracking Links
Our Range of Courier Services
About Parcel2Go.com
Parcel Delivery Tools
Choose Your Country
FASTWAY
Price From:
€8.42 exc VAT
Parcel delivery within 2 working days throughout. Collection and delivery are not guaranteed but currently enjoy a very high success rate.


Buy This Service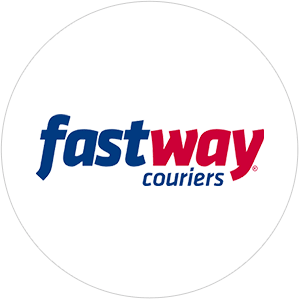 Sending a parcel within Ireland is simple when you choose a delivery service from Fastway Couriers. By booking one of our reliable parcel delivery services you can be sure your consignment will arrive at its destination anywhere in Ireland, safe and sound, within 1-2 working days.

Once you have decided to send a parcel and a booking has been made, a member of the Fastway Couriers team will arrive at your home or office to make the collection between 8am and 6pm. Next day collections can be organised before 6pm the previous day, while orders placed after 6pm will be picked up two working days later.

To make use of Fastway Couriers' domestic service, your parcel must not weigh more than 30kg, or be more than 2.1 metres in length. Remember that for your peace of mind, insurance cover of up to €50 is included with every Fastway Couriers delivery at absolutely no extra cost to you. And when you plan on sending items with a higher value, it is possible to organise for additional cover up to the value of €250.

To ensure you always know where your consignment is, you will be provided with a unique identification number for our easy to use online tracking service. Arrange for Fastway Couriers to come and collect your package today and discover the fast, efficient and low cost way to ship parcels door-to-door in Ireland.
Next working day collection.
Free €50.00 compensation cover for loss & damage.
Parcel delivery within 1-2 working days throughout Ireland.
Collections are between 8am-6pm.
Next day collection can be arranged up to 6pm the day before. Any orders we receive after 6pm can be collected 2 working days later.
30kg maximum parcel weight or cubic equivalent (LxWxHx167)
2.1m maximum parcel length
Great value residential collection and residential delivery with excellent service quality.
Free €50.00 compensation cover for loss & damage. (Additional cover up to €250 is available)
30kg maximum parcel weight or cubic equivalent (LxWxHx167)
2m maximum parcel length when shipping within Ireland & 1.5 metres length when shipping to the UK.
Total size for Parcel shipments must NOT exceed 3 metres. Measured by the thickest section of the parcel plus the height.
Any orders we receive after 6pm WILL be collected 2 working days later. No collections are carried out during the weekend or on bank holidays.
For the price you pay this really is an excellent company, cheap and cheerful! I am going to use these guys when I have a few prezzies to send to relatives over X mas!
---
A work colleague recommended Parcel2Go to me and I'm really glad he did, what a super service. I like that I know in advance the cost of delivery, without arriving at a post office and being at the mercy of the person behind the till. The fact the courier will then also come and collect if from you
...
is just brilliant. And all this from a site that's easy to use and to the point. I've recommended Parcel2Go to loads of friends and family and I'll definitely be using them again. Keep up the good work :)
[More]
---