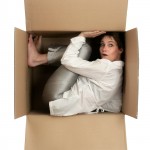 Everyone has heard of planking and owling – well now it's time for boxing!
What's boxing I hear you ask?
It's simple – we want you to cram yourself into a box, bag – whatever you can find and package yourself up for delivery!
Once you've done that, making sure that you're actually visible in the box, take a picture of yourself (you might want to get some assistance from a friend for this bit!).
Et voila – boxing!
Upload your image to Facebook or Twitter, and either tag Parcel2Go in the photo or mention @parcel2go if you're using Twitter. Once the competition has closed, we'll pick the one that makes the office laugh most. Multiple entries are welcome if you're feeling really creative.
The lucky winner will receive a Panasonic DMC-SZ1EB-K 16.1 megapixel Digital Camera with 10x optical zoom. In a box!
The competition closes at 12pm GMT on the 28th of January so hurry up and get boxing!