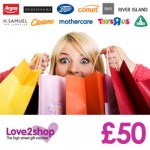 With Valentines Day coming up, we at Parcel2go, thought about all of you lovely ladies who may be panicking about what to wear on V day.
So, we are offering you the chance to win £50 Love2Shop vouchers so you can buy a brand new outfit – just in time for Valentines!
All you have to do is tell us what your perfect Valentines date is, tagging who you would take with you, and we will give £50 Love2Shop vouchers to the best and most creative date so you have a new outfit for it!
Competition Details
Facebook – Write on Parcel2go's Facebook page and tell us what your perfect date is, tagging the person you would like to date. You also need to include the link http://link2.fm/3EQWYW with your post
Twitter – Tweet your perfect Valentines date, and include @ the person you want to date. Use the hashtags #PerfectVday and make sure you include the link http://link2.fm/BW4T0P
Rules – You need to include the link to be entered into the competition. This means we can easily track all of your entries!
Closing date – The competition will end on the 4th February.