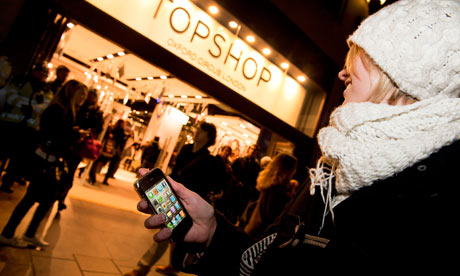 Britain's shoppers are more likely to turn to their smartphones when making online purchases compared to the rest of Europe's consumers, new research has revealed.
A study commissioned by Google (undertaken by research firm TNS) showed that out of 18 European countries assessed, the UK showed the largest proportion of adults who buy goods every month on their mobile phone.
Around one third (32 per cent) commit to a new purchase in contrast to the 8 per cent of France and Italy's online shoppers, with 15 per cent in Germany and 19 per cent in Sweden.
Further data recorded that 83 per cent of UK online customers are daily internet users compared to last year's 75 per cent – with 64 per cent on the web several times a day, an increase of 2013's 57 per cent.
Additionally, the proportion of UK shoppers making online purchases rose in 2014 – from 72 per cent in 2013 to 77 per cent.
The boost in popularity concerning the UK's love of online shopping can be attributed to the increase of other online activities – with watching online videos up from last year's 61 per cent to this year's 66 per cent, while social networking rose from 64 per cent in 2013 to 72 per cent in 2014.
The data has been published to coincide with the launch of Google's new "Multi-screen resources" site – as part of the search engine company's efforts to offer advice for businesses looking to enhance their web presence across the mobile landscape.
"In the UK, people are increasingly using their smartphones for researching products, locating stores and making purchases. That's why it is now essential for businesses to ensure their sites are mobile-ready," explained product marketing manager at Google, Matt Brocklehurst.
"We hope our new resource will help companies who already have a mobile-friendly site [to] improve its performance, and those in the planning stages find the right route for them," he added.