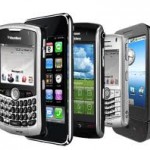 Unless you've been living under a rock for the last few years, you can't have failed to notice just how popular smartphones have become.
According to a survey released by media agency ZenithOptimedia just this week, smartphone ownership in the UK and Ireland is set to rocket from 55.2 per cent of the population to 75.5 per cent by 2015.
In addition, 25 per cent of the UK population is expected to own a tablet device by the time we reach the midway point of the current decade.
But, just which manufacturers are doing best out of the current smartphone boom?
Handily, there's another survey from Gartner which was published recently and can shed some light on the subject. The report found that while sales of feature phones declined by 19.3 per cent during the last quarter of 2012, smartphone sales soared by 38.8 per cent year-on-year.
The Gartner study underlined the fact that Samsung and Apple have clearly emerged as the major players in the smartphone market, accounting for 52 per cent of the market between them.
Samsung has come to occupy a position of real dominance of the Android market, claiming a market share of 42.5 per cent. By contrast, its nearest rival held a share of just six per cent.
Gartner principal research analyst Anshul Gupta observed that Samsung's best-selling Galaxy brand had almost become "a synonym for Android phones" among consumers.
In addition, the Gartner report revealed that the Android operating system continued to enjoy strong growth over 2012, with its market share rising from 51.3 per cent in 2011 to 69.7 per cent at the end of 2012. Apple's iOS, on the other hand, saw its market share fall from 23.6 per cent to 20.9 per cent over the same period.
Which smartphone do you own, and what do you think the future holds for the smartphone market? Join the debate by posting in the comments below¬