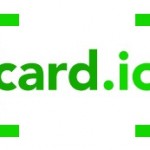 PayPal has just announced the acquisition of the card payment service card.io.
The service allows merchants to take payment from traditional debit/credit cards by simply holding them up to their phone to be scanned.
PayPal has been using card.io's service since March as part of their Paypal Here scheme, an initiative intended to help small business take payment without needing expensive equipment infrastructure, making a logical decision to acquire the company.
This is the latest in a series of acquisitions and announcements for Paypal as they work to remain a key player in online transactions, in the face of opposition from payment schemes such as contactless NFC technology or from other phone scanning services such as Jumio.
Earlier in the year, they announced a mobile card reader device for Here, similar to that used by rivals Square, and last year they acquired the online payment scheme Zong.
Benjamin Ensor from research agency Forrester said: "PayPal has realised that you don't have to have contactless NFC technology to make a mobile payment in a store."
The agency suggest that retailers have been put off the NFC schemes by a high buy in cost, but now Paypal's new purchase leaves them well positioned.
So, what do you think?
Are you excited about the opportunity PayPal presents for getting more involved in offline transactions?