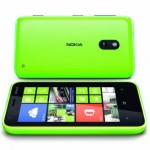 Nokia seem to be going from strength to strength at the moment, as sales continue to rise across their range of mobile devices. We can't argue that the technology powering these phones is great, but for many they have been out of reach because of their steep price tag.
This sub £150 handset however, has many of the features of the more expensive models, yet with a much lower price tag.
The Lumia 620 is a pretty impressive handset, and comes with a 5MP camera, 5GB of available memory, and some added extras such as; HD video, and HD calling.
Pretty impressive for such a competitively priced handset!
And it's not just the hardware that's impressive. The 620 is packed with some great features taken from its older siblings, such as Nokia's offline maps, and turn by turn navigation.
The 620 will be available from many of the leading service providers, such as O2, 3, and Virgin Mobile for £149.99. The phone will be available with a number of interchangeable coloured cases (pink, yellow, cyan, black & white).
O2 will begin to stock the phones from today, and other suppliers will follow suit on February 6th.
So, what do you think? At this price, will you be tempted by the Nokia?