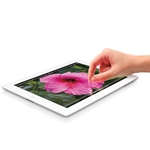 In today's smartphone patent court case update, a judge has ruled against the validity of three of Apple's patents. The lawsuit was launched by the technology firm's rival HTC in response to previous attempts by Apple to assert the validity of the patents.
Four patents were contested, and three were ruled on –
– Apple's 'swipe to unlock' feature
– The use of multilingual keyboards on a device, offering different alphabet choices
– A system that identifies whether multiple fingers are being used simultaneously to activate the device.
The patents themselves can be found here, here, and here, if anyone is curious to read them.
The judge ruled that all of these patents were invalid, in this specific case, and upheld HTC's right to continue with its present use. The fourth patent that involves images bouncing back into place after being dragged beyond the limits of a screen was ruled by the judge to be inapplicable in this case, and so no finding was reached.
In particular, the judge ruled that the 'swipe to unlock' patent could not be held, because of a 2004 device, the Neonode N1, that had used a similar gesture recognition mechanism, and that the addition of visual feedback in Apple's device was therefore an "obvious" improvement.
This may have significant implications for other manufacturers, especially where Apple has already entered into disputes involving the patents, but this ruling in the UK court may only have limited impact on the international stage, especially as the swipe patent has already been upheld in the US against Google, resulting in a block on sales of its Nexus device. Even before this ruling, Apple had attempted to have sales of HTC's phones in the US blocked.
Still, this is a positive sign for Google, especially after its attempt to support HTC's lawsuit by transferring a number of patents to the company was blocked.