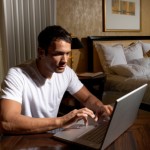 The way we work has changed rapidly in recent years, and the rise in the number of people working from home is clear evidence of this.
In fact, official data revealed last year that the number of Americans working from home has soared by 41 per cent since 1999. This trend shows few signs of losing momentum, and we can reasonably expect that more people across the globe will work from home in the years ahead.
So, if you are in a position where you can choose to work from home then you are part of a lucky few!
However, it's worth remembering that there are a few potential pitfalls associated with working from home.
If you've ever tried it yourself, you might have noticed how easy it is to become distracted – even easier than it is in the office!
Some people take to working from home more easily than others, but there are steps you can take to ensure you're as productive as possible.
The most important thing to do if you decide to work from home is to make sure you create a proper working environment. Consider setting aside a specific part of your home as a working area, and turn a spare room into a mini-office with no distractions. That means no TV, no radio and definitely no pets allowed!
Alternatively, you may find you work better if you leave home altogether and find somewhere free to work, such as a library or a café.
However, don't fall into the trap of working 24/7 because your office is your home. It is vital to set boundaries so you don't burn out.
Your working day and your leisure time can often overlap when working from home, so you need to ensure you have some discipline in this regard.
Set a clear line between your work and your personal life, and organise your time the best you can.
For example, tell yourself you will only work 8 hours a day (and the luxury of working from home is that you can actually choose what hours you work!) and that you will only have that glass of wine or watch your favourite programme once you have done all of your daily tasks.
Working from home can be a luxury, but remember, you have to be super-organised if you're going to work from home on a regular basis.
Have you ever tried working from home? How do you stay focused and make sure you have a productive day?