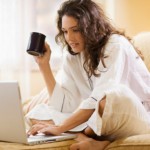 The human race is never satisfied with what is available. We always want something better, something bigger.
When only desktop computers were available, people thought about making a computer they could carry with them.
Enter Laptops.
Then even those were 'too bulky' and cumbersome. So companies came up with slimmer smaller versions, called Ultrabooks.
Though you may not be able to perform heavy tasks, you can still use it for surfing, watching videos, work on spreadsheets and documents and more.
Battery life is decent, around 5 to 7 hours, and of course at 2-3 pounds, its weight is negligible.
If you're planning to get one for yourself, consider these factors:
Build Quality: To make the Ultrabook slimmer many manufacturers replace steel with plastic, fiber and aluminum. While this may cut down its weight, the durability will be questionable. Steer clear of models with more plastic. Also, the weight should ideally be around 2-2.5 pounds.
Display: There are screen sizes from 11-inches, going up to 13 or a little over. If it's an Ultrabook you're seeking, portability should be the main consideration and not screen size. The bigger the screen, the more cumbersome the device will be. Look for a resolution that's at least 1366 x 768 pixels.
Processors: You will not be able to use your Ultrabook for heavy gaming or photoshopping or stuff like that; so why bother with extreme processor speeds? For your usual MS Office related work and surfing, an i5 with 1.6 GHz speed will be good enough.
Storage Type: You can either have hybrid storage or a single SSD (solid state drive). Hybrid is a traditional HDD+SSD combo. Hybrid will give you plenty of storage space but SSD will be super quick, silent and less power consuming.
Connectivity: When you go with slim, you usually have to miss out on ports. So when you're Ultrabook shopping, check the number of ports it has, like HDMI, USB, and VGA; also look at the connectivity options: Ethernet, Wi-Fi, 3G, and whether it supports the latest versions.
Typing Comfort: It would be great if you could actually try out the Ultrabook before you make up your mind. That's because each device is going to have its own combination of touchpad and keyboard. Check that the keys are well spaced and you're able to type comfortably. After all, this will be your primary input mode.
Battery Life: Again very important; you don't want your Ultrabook going on the fritz in the middle of something important that you're doing. Check that it has a decent battery life.
Some of the best Ultrabooks in the market today are: MacBook Air, ASUS Zenbook, Acer Aspire S3,Toshiba Portege Z835-P370, HP Envy 14-3010NR Spectre , and Lenovo IdeaPad U300.
Can you recommend any good ultrabooks? Or do you prefer to stick to your good old laptop?
This is a guest post by Lance Goodman of www.dishtvoffer.com, a site that offers savings and current information on a dish network .