How to Buy Online
There is no doubt that online shopping is becoming bigger and better every year. With access to shopping apps on your mobile phone you can shop online just about anywhere now, comparing the best deals or product reviews in a few simple clicks.
However, there are some risks with buying online. We've put together a guide of top tips to help you shop safely and securely online.
Do your Research
Most people will turn to well-known websites such as Amazon or eBay to purchase goods. On these and similar marketplaces, the quality of sellers and their goods can easily be seen and evaluated via credible in-built rating structures, such as the 'star rating' system on Amazon. However, there can be occasions where you may need to purchase goods from an independent website or seller.
In such cases, it is worth doing some independent research, and checking reviews on sites like Trustpilot, Google Reviews or even Facebook. A high proportion of positive reviews generally mean it will be a trustworthy service. If you're still in doubt you can check Companies House or the Financial Conduct Authority (FCA) register for the business details to ensure it is legitimate.
Aside from checking the seller's legitimacy, it can be beneficial to check deals on various websites. It can be so easy to be drawn into various discounts and buying on a whim, especially when websites offer flash sales or half-price promotions.
If you are working to a budget doing a quick price comparison is a great way to check the true cost of an item. For example, Google Shopping is a fantastic way to compare prices and filter specific details to suit your needs and budget!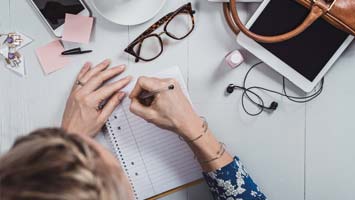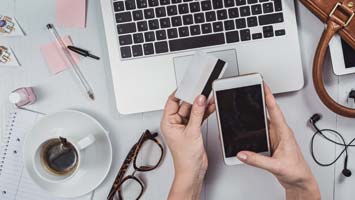 Delivery and Returns
Shopping online definitely has its benefits – no more lugging around those heavy shopping bags or waiting in long queues to return an item. With deliveries and returns portals easier than ever to use for online shoppers – particularly via the more established marketplaces - it's no surprise that more and more shopping is done online.
You can arrange delivery at a date convenient to you or opt to have your goods re-routed to a near-by location.
There are some key points to take note of though:
Check the delivery timeframes before clicking 'buy'. When you order from eBay or Amazon or other online marketplaces, it's not uncommon for sellers to be located outside the UK or Europe. If your parcel is dispatched from the USA or China for example, your delivery period will be significantly longer.
Sign up to a free 30-day Amazon Prime membership to get free next-day delivery on Prime products (you just need to remember to cancel it after the 30 days, so you aren't charged!)
If you aren't going to be home for your delivery arrange a Click and Collect service to a local store.
Most returns process' are 28 days but its always worth checking this out just in case they are shorter.
Securely Checkout
Paying via the internet has its benefits – you can link your PayPal account to many sites for a quick and painless payment. Some sites don't always have this facility and you may need to pay using your credit or debit card. Thankfully, nowadays paying by card is just as easy and, on a great many ecommerce sites, just as secure. However, in the wrong circumstances, sharing sensitive information online can be a risky business. Below are some handy tips to ensure you are protected whilst paying online:
Before payment you will usually be asked to create a password. To make your password as secure as possible use a combination of upper and lowercase letters, symbols or numbers.
Check if the website is secure. There will normally be a padlock symbol in the browser window frame or the web address will start with "https://". The "S" stands for Secure!
If you are purchasing something over £100 it can be worthwhile paying using a credit card. This way you will be protected by Section 75 of the Consumer Credit Act.
Double check all details of your purchase before confirming payment.
Use a secure Wi-Fi connection to make payments such as your home network. If you can, avoid using public Wi-Fi.
Check your credit or debit card statements after purchase to ensure the correct amount has been deducted.
Returns process
Check what the returns process is
Keep your receipts
Delivery costs
Avoid website crashes – keep the tab open on separate devices