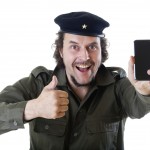 There is more bad news for Apple this week, as a new survey suggests that British retailers are more likely to recommend Samsung handsets to their customers.
Of course, as the Telegraph points out, the reasons for this are likely to be complicated, and just as much to do with commissions as usability, but this is more bad news for Apple at a time where they see dominance of the smartphone market seeming to slip out of their grasp.
2012 saw Samsung increase its total number of phones shipped by almost 20%, three times as many units as Apple, and also leads in the lucrative smartphone sector.
While Apple is still clearly performing well, it looks like it is falling behind Samsung's amazing progress.
It's certainly true that Apple is seeing more and more criticism over its slower release schedule, and more expensive "event" products; something that Samsung's advertisers are keen to seize hold of for its own marketing campaign, branding Apple's products as out dated and out of touch.
One recent ad features a young man queuing for the iPhone before viewers realise he is actually saving a place for his parents.
This is a real problem for Apple, which has relied for a long time on having the cool "killer apps". Samsung's faster release schedule may even be allowing it to experiment and innovate more, potentially moving away from the criticisms of highly derivative products into blazing its own trail.
So will Samsung leave Apple in the dust?
Or will it fail to deliver on the genuine innovation needed to take the lead?
Let us know in the comments below.