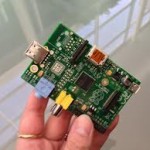 For the tech savvy, the Raspberry Pi has been long awaited.
A super-budget computer intended to teach school children about computer programming, and at an amazing price of just £19, it's not surprising that the creator's website crashed when they began to take pre-orders.
The first machines were released late last year, and were priced a little higher due to their slightly higher specification. However, the new Model A is now available, which makes computing truly affordable to the masses.
Raspberry Pi Specs
This ARM-based machine features a single USB port, 256mb of RAM, headphone jack, and a display connector.
Simple, but fantastic!
The Raspberry Pi, which is the same size of a debit or credit card, is capable of playing HD movies and can be used for gaming.
The great thing about the Model A is that is uses around a third less power than the Model B, which means that the Model A can be run using a battery.
Yes, a PC powered by batteries!
The graphics capabilities of the Raspberry Pi are similar to that of an Xbox, not bad for a device costing less than an Xbox game.
Why Model A will be a big success
The model A is expected to be a massive hit, both with budding programmers, and experts alike. We have never before seen such a mass produced machine at such an incredible price. The Model A can currently be bought in Europe without restrictions. Those wishing to purchase a device to be shipped will have to wait a little while, due to paperwork issues, but this is only expected to last a couple of weeks.
Unlike the Model B, and to keep prices low, the Model A does not have an Ethernet port, this however won't be a problem. Simply plug in a Wi-Fi receiver, and away you go.
Another great thing about this device is it really is striped back, bare bones computing. There are no fancy add-ons or optional extras, just the hardware you need to programme great programs.
The creators of this device, the Raspberry Pi Foundation, really are pioneers in their field.
As well as making a new affordable, exciting device, they are also giving back to community, and sticking to their ethos of making this a machine to help children learn how to programme. They are doing this by creating a buy-one-give-one program, alongside educational materials for schools to accompany the devices.
More information on this great little computer can be found on the Pi Foundation's website.
Will you be buying the latest model?