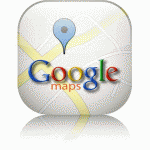 According to The Wall Street Journal, Google is getting its Google Maps app ready for the iPhone, which will come as great relief to the hundreds of unhappy iPhone users, currently dissatisfied with Apple's own Maps app.
The report comes from, "a person with direct knowledge of the matter,", and states that Google is testing a version of its Maps app to people outside of the company.
Apparently, the "finishing touches" are being put together before the app hits the App Store.
But wait a minute, will the app even be allowed in Apple's app store?
However, Google may be wasting its time because Apple may not accept Google's Maps app in its app store, seeing as it decided to replace the Google maps app with its own version in its latest software update.
Google has been preparing its Maps app for the new operating system since the major PR disaster which befall Apple; when it came to light just how bad their own Maps app is.
The app, which is already installed on the iPhone 5, got extremely negative online reviews, with many users pointing out some pretty embarrassing inaccuracies.
This led to Tom Cook making a rare public apology, in which it was speculated that it led to the rapid resignation of mobile chief Scott Forstall.
What does Google have to say?
A Google rep told The WSJ: "We believe Google Maps are the most comprehensive, accurate and easy-to-use maps in the world. Our goal is to make Google Maps available to everyone who wants to use it, regardless of device, browser, or operating system."
As of yet, Apple have declined to comment.
Do you think Apple should allow the Google Maps app in its store, or work on improving its own?