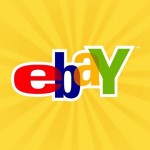 Yesterday, eBay released an updated version of its iPhone and iPad app with exciting new improvements, making the site even easier to use whilst on the go.
The enhanced eBay for iOS app streamlines the selling process, making it even easier to sell items directly from your iPhone or iPad, and includes various other improvements including new guidance tips.
What's changed?
Just like the desktop version of the site, the eBay iOS app now helps you choose the right category for your item, and offers advice on suitable pricing and shipping charges.
Adding photos to your listing has also been made easier, and includes new editing tools so you don't need use another app to ensure your iPhone photos look dazzling.
And it doesn't end there.
eBay has said that its updated app means a faster checkout process for buyers, decreasing the likelihood of people abandoning their shopping carts.
Perhaps the best improvement to the i0S app, notably for eBay Powersellers, is the new ability to create and save multiple listings, with the changes being saved to the website and other devices, so users can carry on completing their listings.
eBay for iOS version 2.7 can be downloaded for free from the App Store, and will fix any bugs or technical issues.
Will you be updating your eBay app as soon as possible? What other changes would you like to see in the eBay app?