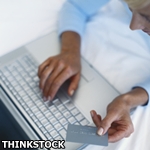 Traditionally, Sunday has been viewed as the best day for online shopping.
However, it has now been revealed that Tuesday is actually the best day of the week if you want to grab a bargain.
Thursday is the second best day followed by Friday, and surprisingly Sunday is the worst day for making a saving whilst online shopping.
An extensive analysis of online shopping was undertaken where researchers also discovered that November is the best month to buy online.
US retailer reporting service SumAll studied 3,000 companies and half a billion transactions as part of its research.
It worked out the average discount offered to consumers throughout the week and during different times of the year.
So, when is best to buy online if you want to save money?
The researchers have warned consumers to stop waiting for the January sales if they are on the lookout for grabbing the best deals, because November is when there are the most bargains on the internet – contrary to popular belief that the best bargains are to be had in the January sales.
The best day of the week was Tuesday where savings were 4.81 per cent, followed by Thursday on 4.80 per cent.
In third place was Friday at 4.65 per cent, then Wednesday at 4.13 per cent and Monday at 4.11 per cent.
Saturday came eight down the list, where the discounts were typically 3.84 per cent – and Sunday was the worst with 3.37 per cent.
The most surprising is that November is the best time to buy, considering most people think that waiting until after Christmas is when you can get the biggest discounts.
Yet, November is when you will get the largest savings at 5.99 per cent on average.
But, don't disregard the post Christmas sales just yet – January came in second at 4.95 per cent, followed by May at 4.50 per cent.
The worst month to >buy online was March where you could expect to save just 2.76 per cent.
Will you be listening to this research to plan your online shoppingtrips? Or will you shop online as normal?