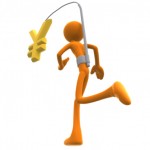 How many times have you bought something spur of the moment, then gone home and thought, 'Why did I buy that?!'
If you are anything like me, then this has likely happened to you plenty of times!
Impulse buys are hard to avoid in this day and age, especially since the boom of online shopping.
And now, new research has revealed that it's the popularity of tech devices, such as smartphones and tablets that have led to UK consumers making more impulse purchases.
With the rise of online retailers like eBay and Amazon offering consumers reduced price items with cheap parcel delivery, it really is no surprise that many of us are making impulse buys now more than ever.
The research

Rackspace Hosting, an open cloud company, surveyed over 2,000 consumers and discovered that impulse purchases in the UK may have increased by as much as £1.1 billion a year due to the rise in the number of people using smartphones and tablets.
Rackspace found that;
48% of British adults using smartphones and tablets to shop online admit they impulse buy more frequently when using their portable devices
17% believe that the availability of internet on the go has increased the likelihood of them making impulse purchases.
71% say that ease of use and user-friendliness are the reasons behind the trend
27% prefer shopping on smartphones and tablets ( which explains why they are more likely to impulse buy)
The average spend by those polled was approximately £329 a year.
32% give into impulse buys when they are offered promotional codes to save money
Fabio Torlini, vice president of cloud at Rackspace, said: "This is good news for retailers in general of course, but our study provides some additional insight here"
The retail trade still has work to do in order to convince the majority of the British public that using mobile devices to shop online is a safe, preferable and attractive alternative to logging on from their PC or visiting a store."
Are you more likely to make an impulse purchase when shopping via a mobile or tablet computer?