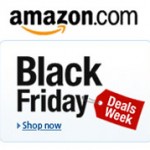 Every year in the U.S, retailers offer massive discounts to coincide with the Thanksgiving holidays, in a period known as 'Black Friday'.
Amazon introduced the American tradition to the UK in 2010, which has now become immensely popular.
Over the next seven (now 6) days, Amazon will heavily discount thousands of popular products to alleviate some of the Christmas shopping costs, saving many people a lot of money, just in time for the holiday season.
This week, known as 'Black Friday Deals Week', online bargain hunters can save an average of 40% on the usual price on over 1,000 Amazon products.
And even more exciting this year is that Black Friday Deals Week will continue over the weekend, until Sunday 25th of November for Black Friday Reloaded, wheras in previous years it has ended on the Friday.
For those who are wondering why it's called Black Friday; well, it is said to represent retailers moving into the black after nine months in the red due to the big increase in sales.
How to take advantage of Black Friday
The Black Friday Deals are only offered for a certain time period, and there is usually a limited quantity, so if you want to make the most out of the Amazon sale, you will need to be speedy when it comes to making that all important purchase on that coveted item.
Amazon allows you to add a product to your trolley, but if you don't buy it within 15 minutes, you lose the rights to that item, and if you are not careful, someone else may buy it and you could lose out.
Black Friday is perfect for those who want to save money on Christmas presents, but be warned that you cannot buy more than one version of a specific offer, i.e. you are not allowed to buy 10 Philips HD TV's.
In order to organise the deals, Amazon will release different themed hours, where consumers can make savings on specific types of products in different categories, like Electronics & Computing.
So, check out the Black Friday offers on the Today's Deals page or subscribe to the deals newsletter, and if you want live updates to keep up with the themed offers, follow Amazon on Twitter.
Which? have gathered together some ofthe best deals currently on offer, so make sure you take a look before you go shopping on the high street!
Have you grabbed yourself a good bargain from Amazon yet?