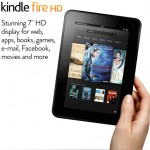 Amazon.com has hit Apple full-force in the on-going tablet wars by positioning a full-page advert on its homepage, showing why its new Kindle Fire HD is superior to the new mini iPad.
With a big logo saying 'Much More for Much Less', Amazon's advert compares the specs and price of both tablets.
Amazon's claims are true, making it seem that the Kindle Fire HD is a cut above the iPad mini, yet it fails to give an all-rounded view of both tablets.
Unsurprisingly, the iPad mini's unique features such as iTunes Match, app store apps, iCloud storage and services, Siri, etc are not mentioned.
However, no-one can argue with the fact that the Kindle Fire HD is much more competitively priced, at £129, compared with prices starting from £269 for the iPad mini.
Probably the most damaging aspect of Amazon's homepage is the quote it features from tech site Gizmodo which says "your [Apple's] 7.9-inch tablet has far fewer pixels than the competing 7-inch tablets! You're cramming a worse screen in there, charging more, and accusing others of compromise? Ballsy."
This marks an aggressive, and some may say clever, approach in Amazon's marketing strategy as Apple looks to enter the smaller tablet market which has so far been dominated by Amazon's Kindle range.
What do you make of Amazon's decision to compare both tablets so outrageously?
Is all fair in love and war?