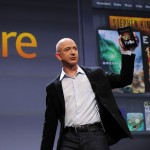 Fortune magazine has just announced Amazon's CEO, Jeff Bezos, as Fortune's Businessperson of the Year.
This is great news for Amazon, in which Bezos is recognised for a string of various accomplishments over the past year, including his well-respected management techniques, such as his "S-team" meetings, which involve senior executives who read printed memos called "narratives", sitting in silence for up to 30 minutes.
"The three big ideas at Amazon are long-term thinking, customer obsession, and a willingness to invent.
"We innovate by starting with the customer and working backwards. That becomes the touchstone for how we invent.", said Bezos.
Under Bezos's rule, Amazon has become a true force in the online retail market; considering the company originally started out as an online book retailer,but now has emerged as one of the greatest success stories from the late 90s since the boom of the internet.
Amazon is now the world's biggest online retailer, as well as a worldwide source for technology services, which can be attributed to Amazon's shrewd use of its extensive cloud-based infrastructure and attractive software development platform.
Bezos set the precedent for the E-reader market with the Kindle
When the first Kindle was introduced to the world in 2007, many industry experts believed e-readers would not take off, and berated Bezos for the move.
However, the Kindle was immensely popular, paving the way for other e-readers to come on the market.
So, Bezos's business acumen can be said to be the foundation for the rise in popularity of e-readers.
Bezos is compared favourably to Steve Jobs
Bezos's peers and competitors are all very complimentary about him, with Netflix's CEO Reed Hastings saying, "Jeff is a manic competitor, a delightful human being, and a trusted supplier."
You can read about Bezos here, where you can learn all about his latest accomplishments.
Fortune have compared the Amazon founder favourably to the late Steve Jobs, which is a major honour, considering that Jobs is pretty much known as the God of technology, reinventing his incredibly successful company, Apple, to keep up with with the constant changing landscape.
It is interesting to see that 'The Top Businessperson' list is dominated by leaders in the technology and telecommunications sectors, who feature at the top of the list. These include Comcast CEO Brian Roberts, eBay CEO John Donahoe, Samsung CEO Oh-Hyun Kwon, and Google CEO Larry Page.
Do you think Bezos is deserving of this award?
Let us know in the comments below!