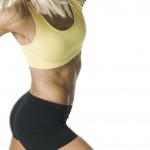 With January almost over, many people ease up on their health and fitness resolutions with some slipping back into their old ways, chocolate and all!
But if you have an iPhone, then you can put a halt to that and continue your journey towards a healthier, fitter you.
Here are Parcel2go's round-up of the best iPhone apps to keep you on track;
If you are in desperate need of motivation to those legs moving, then look no more. The Charity Miles app is the perfect app for this. You can earn corporate sponsorships for every mile that you walk, run, or bike.
All you have to do is choose a charity (the app has loads to choose from), and start exercising. If you walk or run, you get 25 cents per mile, and those who cycle get 10 cents per mile.
So do your bit for charity and get exercising!
2. Peer Pressure
This app is does exactly what it says on the tin.
Would you eat that cookie if you knew your friends were watching? Would you run an extra mile every day, knowing your friends will see just how far you ran?
Download this app so you can post your success, and yes even your failure on a social network of your choice.
When you miss a run, you will have everyone there to motivate you, or when you reach your goal weight, everyone can then congratulate you!
This app is great for motivation, when you start to lack enthusiasm for exercise, or the willpower to resist fast foods.
3. >Lose It!
This one is a very popular, comprehensive and organised weight loss iPhone app.
It contains a huge database of foods and activities, in which you can track your daily calories, as well as nutrients, and see how many calories you burn during exercise.
Not sure how much to eat every day? Lose It will also help you with that.
One of our favourite features of this app is its bar code scanning ability, allowing you to scan packaged foods and drinks to see just how healthy they are.
4.Nike training club
This app is ideal for those who either can't afford a gym membership or those who don't have enough time to go to the gym.
Get fit from the comfort of your own home and learn new exercises to target specific muscles.
Nike's app features full 30- to 45-minute personalised workouts, which are all based on your goals and fitness level. Images and videos are on-hand to ensure you use the right technique and with the step-by-step instructions, it's hard to go wrong.
Our favourite bit? The iPhone app allows you to earn rewards once you have achieved your goals, like special celebrity training videos!
Do you use any of these apps? Or do you have any you highly recommend?