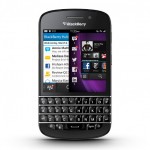 Research In Motion, or Blackberry, as the firm is now known, launched its latest offering to the world of smartphones yesterday, with the new Blackberry 10. The brand new model comes in two handsets, with the Z10 being controlled via a 4.2" (10.7cm) touchscreen, while the Q10 has a smaller 3.1" (7.9cm) screen and physical keyboard.
The Z10 has been released in the UK first, with predictions that Canada and the UAE will launch it in February, and it will go on sale in the US in March.
CEO Thorsten Heins told a press conference in New York that the firm had to make a tough call two years ago – whether to adopt someone else's platform or to go it alone – and they chose the latter.
The appeal of the new Blackberry could determine the successful future of the firm. Technology analyst at BNP Paribas, Alexander Peterc, told the BBC that "the devices are probably the firm's last attempt to make an impact in this market [and as such] it's crucial for them to generate at least a half-decent amount of traction with consumers".
Data from IDC shows that whilst Blackberry devices accounted for just over 19% of global smartphone shipments at the beginning of 2012, this figure had dropped by a staggering amount to just less than 4% by the end of 2012.
With so much riding on the new offering, Blackberry needed to produce a phone to wipe the current competitors out of the water.
So, let's take a closer look at some of the new features:
1. Time shift camera
8MP rear-facing camera, autofocus, 5x digital zoom, 1080p HD video recording, 2MP front-facing camera, 3x digital zoom, 720p HD video recording
2. Blackberry Flow
Users can run up to 8 apps simultaneously and the new interface allows them to 'flow' through applications using swipe motions.
3. Blackberry 10 Keyboard
Not RIM's first phone to feature a touchscreen keyboard; however, it has incorporated new features to attract users more used to physical buttons, such as learning the most often used words and phrases and using this to suggest words. It will also learn to anticipate and correct frequently made mistakes.
4.Blackberry Hub
BB10′s Hub – bringing together emails, texts and other notifications – can be accessed by swiping up and then to the right from any app. The user then needs to reverse the gesture to return to where they were
Charles Arthur, Guardian Technology editor, takes users on a tour of the new BB10 software and the Z10 handset.
So what do you think? Has the new Blackberry 10 got what it takes to help the company survive? Do the features tempt you to invest in Blackberry, or are you intending to stick with Apple?